Lambert students predicted the Oscars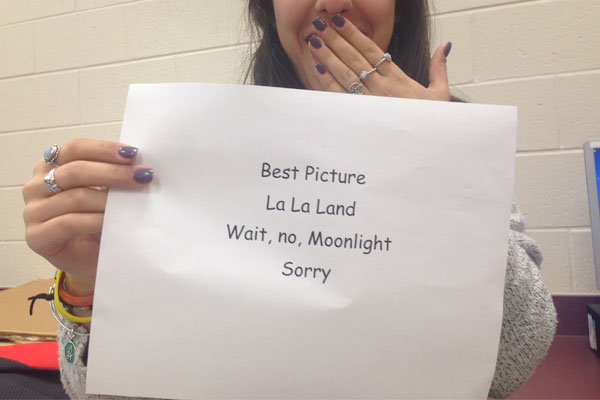 *DISCLAMIER: Due to a technical difficulty in the office of The Lambert Post this article was not able to run before the Oscars, when it was intended to. The article has been slightly edited to reflect this.*
Award season is in full swing in the good ole U.S. of A. The Golden Globes happened a little less than a month ago, with La La Land leaving the Beverly Hilton as the big winners of the night, sweeping their seven nominations. La La Land again looks to be in shape to win big, reeling in fourteen nominations. The Grammy Awards just recently crowned the best and brightest in music for the past year (Adele is better than Beyonce, and that is a fact), and on January 24th, the Academy of Motion Picture Arts and Sciences announced its nominees for the 89th Academy Awards.
Many Lambert students hold a wide range of opinions regarding the Oscars, especially the most talked-about film of the season, La La Land. "I think it's crazy how La La Land is nominated for so many [awards]. I've never seen it, but I still think it's ridiculous that it has fourteen nominations. I have no desire to see it," says junior Charles B. Hague IV. This sentiment that La La Land has received too much hype is shared by a few other students as well. "I don't think La La Land should have received more than ten nominations. Ryan Gosling should not have been nominated for Best Actor," says junior Grayson Lichtenthaler. "La La Land needs to be stopped. It already had a clean sweep of the Golden Globes, let someone else win," adds senior Marissa Truskwowski. Well, Ms. Truskowski, a disgraced stagehand and Faye Dunaway tried to not let someone else win, but Warren Beatty and justice prevailed.
Although these students expressed disdain with La La Land's recognition, the majority of a random sample of students surveyed by The Lambert Post voted in favor of the film, voting it as the winner of Best Picture, Directing, Costume Design, and Cinematography, and their leads, Ryan Gosling and Emma Stone, were also tabbed by Post readers to take home Leading Actor and Actress. The students would be right regarding Stone, but incorrect regarding Ryan Gosling as best leading actor.
While La La Land's Gosling and Stone were declared the top leads, it was Lion's Dev Patel who was tabbed as the Best Supporting Actor by those surveyed. He defeated Mahershala Ali of Moonlight and Jeff Bridges of Hell or High Water. Once again, the students were not too in touch with the opinions of the Academy, as Mahershala Ali took home the prize for best supporting actor. I didn't realize how Mahershala Ali was until I watched the award show. He was great in Hunger Games.
As for Best Supporting Actress, Viola Davis of Fences was the top vote-getter in that category. She narrowly edged out Octavia Spencer of Hidden Figures. What do you know, the students got something right.
Best Animated Feature Film was voted to be Zootopia. The film held an ever-so-slight edge over Moana. I might have to fight the Academy and the students. Moana was amazing.
O.J.: Made in America was voted as the Best Documentary (Feature) in a landslide. Duh.
Alden Kennedy, a junior, shared with me a neat insight into the impact that the entertainment industry has had on her life: "we had a foster cat named Oscar, and then we got another one named Emmy." The Oscars are a major event in American pop culture, and millions of people tuned in to see Jimmy Fallon parachute sweets down to the audience, hold child actor Sunny Pawar in the sky a la The Lion King, give a group of tourists a stroll through the auditorium, as Denzel Washington married two of them, and a major gaffe went down at the announcement of the Best Picture. I'm Colin Masterson, signing off.
Leave a Comment
Donate to The Lambert Post
Your donation will help support The Lambert Post, Lambert High Schools student-run newspaper! Your contribution will allow us to purchase equipment and cover website hosting costs.