"Ridin' Solo":bandmates turned solo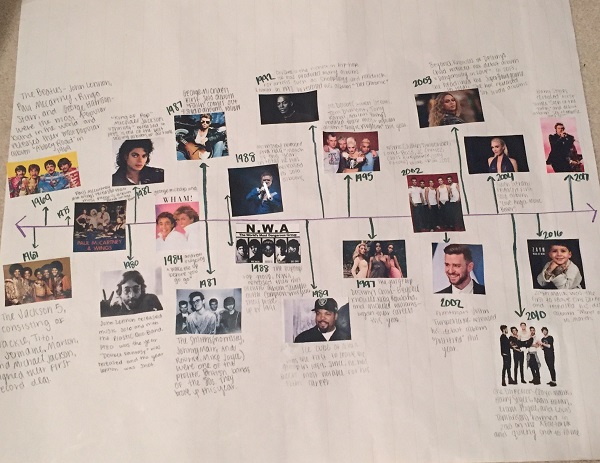 1967-
The Jackson 5, consisting of Jackie, Tito, Jermaine, Marion, and Michael Jackson, signed their first record deal.
1969-
The Beatles (John Lennon, Paul McCartney, Ringo Starr, and George Michael) were the most popular band in the world. This was the year they released their most popular album "Abbey Road".
1973-
Paul McCartney and  Wings released their most famous album "Band on the Run".
1980-
John Lennon released music as a solo artist and with the Plastic Ono Band. 1980 was the year "Double Fantasy was released and the year he was shot and killed.
1982-
"King of Pop" Michael Jackson of the Jackson 5 released "Thriller" which is one the best selling albums of all time.
1984-
George Michael and Andrew Ridgeley of Wham! released their hit "Wake Me Up Before You Go Go".
1987-
Former Wham! Member George Michael first solo album "Faith" came out. Four solo albums followed.
Also this year, The Smiths (Morrissey, Johnny Marr, Andy Rourke, and Mike Joyce), who were one of the most prolific British bands of the time, broke up this year.
1988-
Morrissey of The Smiths released his album "Viva Hate" March of this year. In total he has released 10 solo albums.
Also this year, the hip-hop/rap group NWA released their most prolific album "Straight Outta Compton". The broke up in 1991.
1989-
Ice Cube was the first to leave the group NWA this year. Since, he has been most notable for his film career.
1992-
Dr. Dre (NWA) is one of the most successful in the hip-hop industry. He has produced many albums for different artists such as Snoop Dogg and Kendrick Lamar. In 1992, he released his solo album "The Chronic".
1995-
No Doubt (Gwen Stefani, Tom Dumont, Tony Kanal, and Adrian Young) released their most popular album, "Tragic Kingdom", this year.
1997-
The girl group Destiny's Child (Beyonce Knowles, Kelly Rowland, and Michelle Williams) began their career this year.
2002-
NSYNC (Justin Timberlake, Lance Bass, JC Chasez, Chris Kirkpatrick, and Joey Fatone) broke up in 2002.
Also this year, frontman Justin Timberlake released his debut album "Justified".
2003-
Beyonce Knowles of Destiny's Child released her debut album "Dangerously in Love". In 2013, she headlined the Super Bowl game. In total, she has released six studio albums.
2004-
Gwen Stefani of No Doubt released her first solo album "Love. Angel. Music. Baby". this year.
2010-
One Direction (Harry Styles, Zayn Malik, Louis Tomlinson, Liam Payne, and Niall Horan) formed this year on the X Factor UK and quickly shot to fame around the world.
2016-
Zayn Malik was the first to leave One Direction and released his first solo album "Mind of Mine" in March of this year.
2017-
Harry Styles of One Direction released his first solo single "Sign of the Times" and his debut album is set to release May 12th.