Transgender Teen Makes History In Georgia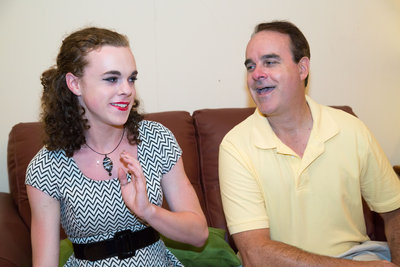 In a state with a long history of discrimination, East Cobb student Sage Lovell is making progress for diversity by becoming the first transgendered teen in Georgia to be elected to her school's homecoming court.
The junior from Walton realized in her early teens that she did not identify with the male body in which she was born, and by the end of her sophomore year had decided to transition her identity to female and begin going by Lovell. This year her classmates rallied around her to first nominate and then elect her to be one of three girls representing the junior class for homecoming court. Lovell says she is flattered to be have been chosen and that she couldn't stop smiling when she heard the announcement. "My entire homeroom erupted in very loud cheering. Apparently it was able to be heard from across the school."
Georgia is not the first state to see a transgendered student nominated to homecoming court. Earlier this fall, Scarlett Lenh was crowned Homecoming Princess at her school in Colorado Springs. Lenh, like Lovell, only began her transition from male to female this year, but has since settled into her new identity. However her success was met with bitterness by some parents who dissented the idea of a transgendered teen on court. Similarly, California student Cassidy Lynn Campbell won the crown at her school in 2013, but her joyous victory ended in tears as she struggled with the "ignorant" and "stupid" comments made by others about her achievement (Campbell spoke about the experience on her YouTube channel, LanceMize). Jeff Graham, executive director of Georgia Equality, an organization that works to advance fairness, safety and opportunity for gay, lesbian, bisexual and transgender people, said that schools must be prepared to protect and support their students in such situations, "If the student body supports a transgender student to participate in homecoming court, that student should be able to have the right to be able to do that and the role of the school is to make sure it is a safe and festive situation for all students."
The students in question have all expressed gratitude for their recognition and used their platforms to encourage self-acceptance, especially among their fellow classmates. "It's just about being yourself…I want everyone to know no matter what body you're in or what mind set you have, being you is the best feeling in the world, no matter what," said Lenh. Campbell agreed, stating, "I realized it's bigger than me. I'm doing this for the kids who can't be themselves." Perhaps next year, Sage Lovell will be crowned Homecoming Queen. Until then, her influence in her school continues to show others that being true to who you are is the best path for happiness.