Frank Ocean: redefining R&B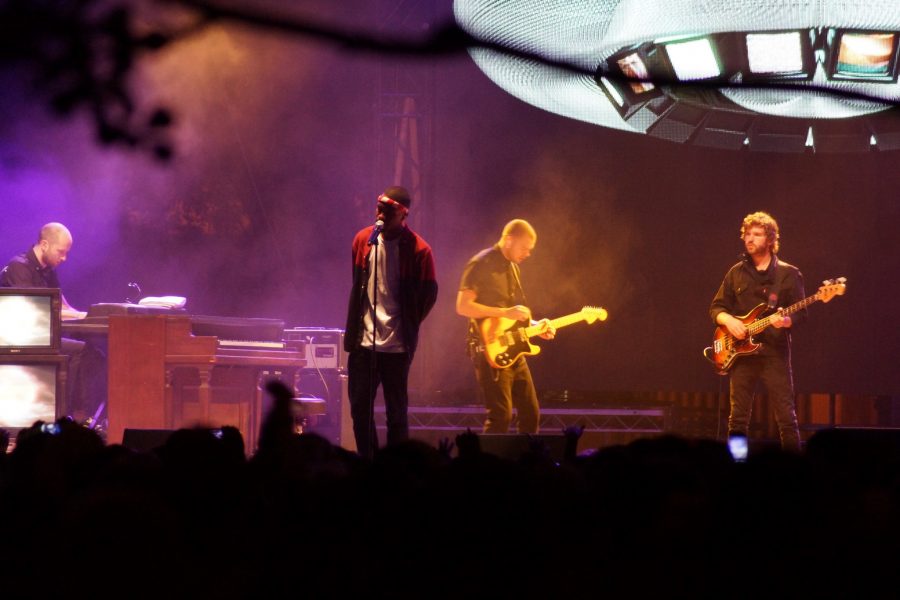 Frank Ocean, commendable R&B singer/songwriter, is known for his hypnotic vocals and unique textures that have resulted in a massive and devout fan-base. His career ignited in Los Angeles after dropping out of college and beginning to ghostwrite for artists such as Brandy, John Legend, and Brandy. Throughout his music career, his innovative urban sound has served as the leading force in the progressive shifts in sound, content, and texture of R&B.
The world was introduced to Frank Ocean's sound on February 16, 2011 via his breakout mix tape, Nostalgia, Ultra via Tumblr. Nostalgia, Ultra brought quite a unique aesthetic to the whole of the R&B genre. The R&B world was introduced to Frank's  genuine sound through a means describing his relationships, reflection, social commentary, and sexuality. The record's songs features lyrical content that was meant as a medium for expression Frank explains in a Complex Magazine interview in 2011. For example, "We All Try" expresses Frank's belief that marriage is just between love and love, and not just man and woman while also describing that it should also be up to a woman to chose whether or not she wants an abortion. In 2 minutes and 56 seconds, he covers his thoughts on gay marriage and a woman's right to chose through his quintessential lyrics behind a smooth and groovy beat. Another piece of social commentary lies within the song: "Songs 4 Women". This song's lyrics  display a narrative in which he arranges a meeting in his dad's empty house but also offers his thoughts on his conflicts with women. As of 2011, the world was introduced to how a solo Frank Ocean utilized masterful lyrics in order to convey his personal feelings.
A year after dropping his mixtape, Nostalgia Ultra, Frank Ocean released his debut studio album: Channel Orange. Although falling under the broad genre of R&B, Frank brought his own unconventional style to the table and released Channel Orange with a mix of funk, pop, and electronica. Unrequited love, drugs, social class, and sexuality were only a few of the featured themes that Frank touched on through his descriptive lyrics and harmonious vocals. When asked about the lyrics in an interview with The Guardian, Frank had revealed that he had used both his past personal experiences and imagination to construct narratives for his songs. Frank then goes to detail how he had sat in on Narcotics anonymous and Alcoholics anonymous group which eventually served as inspiration for the song "Crack Rock". The songs in the record reflect Frank's thoughtful songwriting and his animated vocals. Tracks "Sweet Life" and "Super Rich Kids" focus on the class-status and wealth of people while being accompanied by the interlude of a woman discussing the importance of money and happiness. Most widely known as the centerpiece of the album, "Pyramids" is important in depicting the overall narrative of the album; this 10 minute-long track was structured with a unique lyrical composition so that the lively first half gives way to a sentimental second half whilst comparing the fall of Egypt's Cleopatra to the circumstances of a girl working at a strip-club. The music throughout this album reflects a newly expressed talk of drugs while maintaining the iconic feel for powerful vocals and complex, storytelling lyrics.
As of April 2015, Frank Ocean announced that his follow-up album to Channel Orange would be released in July. With no further explanation as to when the next album would release, his fan-base was left clueless as to what to expect next. After months, a cryptic live stream of him cutting blocks of wood which was followed by a 45-minute visual album titled Endless. However, it was four years after his debut studio album that Frank released Blonde. Blonde brought an aesthetic to the R&B genre that reinstated his claim over the unconventional music territory. Although his introverted music personality has remained relatively consistent since his breakout mix tape (Nostalgia, Ultra), Frank brought about an aesthetic incomparable to his previous projects. Breaking the musical boundaries once again, Frank Ocean delivered an alternative R&B styled album, with an essence of pop and indie that focuses on love, personal reflection, drugs, and violence. The album is a collection of intimate songs that come together to form an overall atmospheric and mesmerizing record. For instance, "Siegfried"'s lyrics establish a sense of personal detachment from society: "I can't relate to my peers"… "I'd rather chip my pride that lose my mind out here." The track "Nikes" is a funk-driven beat that features a condolence to Trayvon Martin after comparing their appearances and later on in the song focuses on the intricacies of love. Blonde is a compilation of ambient beats behind powerful lyrics and emotionally dense stories.
Over the past four years, Frank Ocean has individually re branded the genre of R&B. Starting with his 2011 breakout mix tape Nostalgia, Ultra, the world was introduced to Frank's casual story-telling as means of expression. Never falling short of his original musical style, Frank defined his own unique style of expression over the next 5 years with his records Channel Orange and Blonde while also redefining the. As an artist however Frank has evolved the purpose of his music. Content-wise, the talk of drug experimentation has made its way into his music, particularly in Channel Orange and Blonde. Despite the apparent interest in drugs, over the past 5 years Frank Ocean's music has been primarily focused on love, relationships, and reflection whist following a masterful and contemporary structure of musical expression.
Leave a Comment
Donate to The Lambert Post
Your donation will help support The Lambert Post, Lambert High Schools student-run newspaper! Your contribution will allow us to purchase equipment and cover website hosting costs.