Caroline Weiss and the University of Glasgow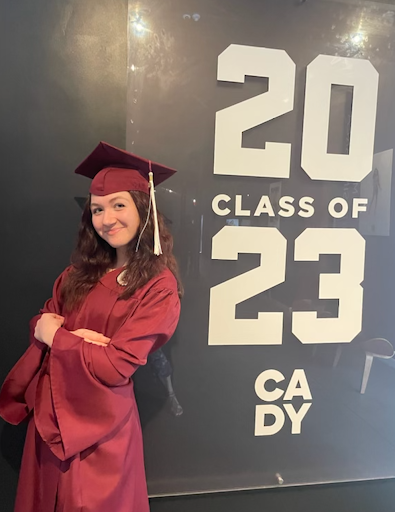 Senior Caroline Weiss gravitated towards literature ever since she took an interest in reading and philosophy two years ago. She had no idea that she would be attending a school in Europe, where many of her favorite philosophers originated. 
When discussing her process of applying to colleges out of the country, Weiss mentioned how her dad convinced her to apply to international colleges to avoid large amounts of student debt. 
"At the end of junior year, my dad showed me a documentary about student loan debt and it really scared me," Weiss stated. "The last thing I wanted to do was stay in a state where tuition was high. I just wanted to go out and experience something else." 
When exploring colleges, Weiss started to look for universities in Germany since a lot of her family currently lives there. She soon realized her lack of knowledge of the German language and decided that predominantly english speaking colleges in the UK would be the best option for her as a monolingual.
She soon applied to the University of Glasgow in Scotland with minimal expectations of getting accepted, but she was soon proven wrong. 
"I did not know if I was qualified enough to get into their schools," Weiss stated. "If you look up colleges in America they tell you the stats and acceptance rate, but if you look up colleges outside of the country, it is really difficult to gauge what they're looking for. I really didn't know if I was going to be able to get in."  
Weiss believed that her GPA was what set her apart from other applicants. She mentioned how the application required two AP test scores that related to accounting and finance, but the two AP tests she took had nothing to do with her choice of major. 
She stated her fear that the University of Glasgow would not even look at her application, but she still went through with it and got accepted. 
This fall, Weiss will be attending the University of Glasgow in Scotland to study accounting and finance. 
Weiss talked about how she has always been interested in organizing and saving money, one of the biggest reasons for her decision to go to an affordable college in Scotland. After many discussions with her dad, she decided that accounting would be the best major for her.
Weiss mentioned how even though she has worked in many places, her more exciting and intensive job at Carabbas has helped her develop her interest in organizing and saving money. 
"I really like math; it's my favorite subject, and I really like keeping track of money," she stated. "I work at Carabbas and every time I get a paycheck I write it down on this notebook I have, and everytime I spend money I keep track of it." 
Outside of school, Weiss enjoys painting, reading, video editing and hiking. 
She is very excited to attend a school that matches her aesthetic as she expresses her creative mind through watercolor paint and literature.  
"My hobby with reading and getting into philosophy has definitely changed my outlook on life and how I perceive things, and it also plays a big role in my essays I submitted for college applications," Weiss stated. 
In the future, Weiss hopes to live in many countries, learn languages and work at youth hostels. She is currently unsure on how she is going to earn money, but as of now she plans to go into something technology and finance related.
Donate to The Lambert Post
Your donation will help support The Lambert Post, Lambert High Schools student-run newspaper! Your contribution will allow us to purchase equipment and cover website hosting costs.