Humans of Lambert: A Look Inside the Class of '26 with Niyu Nalluri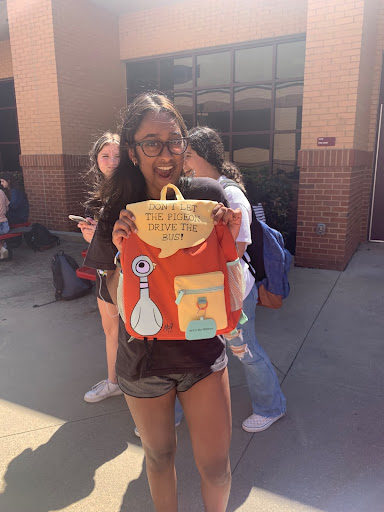 Despite being at the bottom of the food chain, Lambert's class of 2026 has joined with a bang. Already being involved in a variety of school activities, the class of '26 is showcasing their various passions and Longhorn Pride.
One of these ambitious freshmen is Riverwatch alumna Niyu Nalluri. Nalluri's strategy was to join as many clubs as she could to feed her vast array of interests, and in the process, she discovered her passion.
"I was an officer in FBLA [in middle school], and I think that made me grow my confidence which made me want to get into more public speaking things," Nalluri said. "It also helped me get into law."
This year, she is an active member of Lambert's FBLA chapter and hopes to run for an officer in the future.
Outside of her involvement with FBLA, she is also a member of The Acting Troupe of Lambert (ATL). Nalluri's involvement in middle school theater inspired her to pursue theater at the high school level.
"I've always loved singing and acting, just being part of a crowd, and I just wanted to continue that passion," she explained.
Nalluri's first experience with members of ATL was in eighth grade. Seniors helped Riverwatch produce the play, The Jungle Book, and Nalluri was cast as a coil (snake).
"Basically in 8th grade, I just wanted to be a part of something, and I was already in drama at school so I was like, 'alright let's try this out, it might be fun,'" she stated. "I think I had a lot of fun working with seniors."
This year, Nalluri has the opportunity to play Showanda in Lambert's production of Elf.
Through Nalluri's wide range of school involvement, she has had the opportunity to meet many new people outside of her established peer group. In August, she was nominated for freshmen homecoming court.
"At first it was like a joke and I was like, 'let's just see what happens,' and I didn't really expect it," Nalluri mentioned. "I was just telling people to vote for me, and then I got nominated, and I thought that was cool."
Nalluri was elated to realize homecoming court was much less complex than she had initially expected. To her pleasant surprise, the only requirements were participating in the pep rally and walking across the Lambert football field with a family member.
Outside of school, Nalluri enjoys cooking, a passion that led her to join the Family, Career and Community Leaders of America organization (FCCLA) as well as the culinary career pathway, a class with only three freshmen.  She also enjoys running and playing piano and guitar.
Nalluri is excited for her future at Lambert and is currently enjoying her experience as a high school freshman.
"Honestly, I would say it's easier for me this year," Nalluri stated. "I think I have made like a lot more friends outside of my little friend group, and I think it's nice to be in a different environment outside of my middle school."
Donate to The Lambert Post
Your donation will help support The Lambert Post, Lambert High Schools student-run newspaper! Your contribution will allow us to purchase equipment and cover website hosting costs.