Vineeth Sendilraj – On A Mission to Make a Better World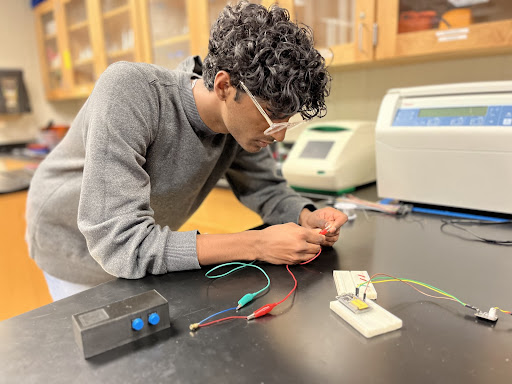 Lambert junior and biotechnology whiz Vineeth Sendilraj has a depth of achievements to his name, whether it be captain on the world's number one iGEM team, a finalist at the prestigious International Science and Engineering Fair (ISEF) or an integral member of the Lambert track team. Vineeth's accomplishments speak volumes about his hard work and ability to excel in a variety of pursuits. However, the main thing that shines through in all his endeavors is his commitment to making the world a better place for those who most need it. 
"Coming from a middle-income family, we aren't aware of a lot of struggles that others around the world face," Sendilraj explained. "Trying to create more innovative solutions to help those less fortunate has really opened my eyes to expanding my STEM skills as well as having an impact on others."
Last year, Vineeth worked on creating affordable hardware for an iGEM project that could be utilized by science students at a variety of income levels, especially in underfunded regions with lesser access to cutting-edge technology such as that present in Lambert. He later submitted this same project to the Georgia Science and Engineering Fair, where Vineeth and his team placed in the top three teams in the state. This enabled him to qualify for ISEF, which has not seen a representative from Forsyth County in the last five years. 
"We were selected as ISEF finalists…in Forsyth County, that is a really big deal because we don't have regional qualifications and we're not regionally affiliated, so the only way to qualify for ISEF is by cracking the top three," Sendilraj said.
This depth of accomplishment in the field of molecular biology is remarkable for someone who is only a junior in high school, but for Vineeth, it serves as just a start for his future plans.
"With my large background in biotechnology, I'm planning to continue medical technology development and pursue [medical] research," Sendilraj said. "I hope that I can really make a big impact and help people across the world."
Vineeth's extensive experience with iGEM and his other endeavors in biotechnology coupled with his desire to impact people through science is sure to go a long way in furthering his plans of medical technology development. Such research will be crucial in helping those in less fortunate positions.
Whatever the future holds for Vineeth, he is sure to succeed with his plethora of skills and knowledge in a variety of disciplines. For this motivated Lambert student, the sky is the limit with regards to his mission of shaping a brighter tomorrow for the world.
Donate to The Lambert Post
Your donation will help support The Lambert Post, Lambert High Schools student-run newspaper! Your contribution will allow us to purchase equipment and cover website hosting costs.