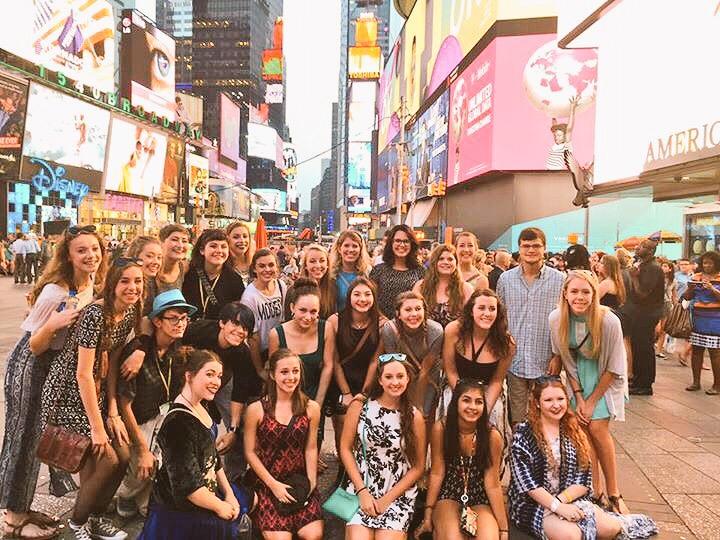 Photo used with permission from the Acting Troupe of Lambert twitter
#ATLtakesNYC
The Acting Troupe of Lambert traveled to New York City over Labor Day weekend. The school trip started on Thursday with a flight to LaGuardia Airport at 8am. All four days were action-packed with surprises on every corner. As the historian of the drama club, it was a thrill to be able to document even a small bit of the action. Once we arrived, we immediately traveled by bus to Chinatown and Little Italy. Everyone got to explore, and eat the best quality cultural food. In the evening, we attended Wicked, which was exquisite. The first theatrical production I ever saw was Wicked when it first toured; I loved it so much I saw it two more times at the Fox Theatre. Finally witnessing it on Broadway, however, was better than I could have ever fathomed.
The next morning there was a bagel shop right down the road, and a Starbucks seemingly on every block, so food options were not one of our concerns. Our hotel was one block off of Times Square, so we were always in the action. That day, the group trekked to the Statue of Liberty, Ellis Island, and the 9/11 Memorial. We closed day two off with our attendance of the new Broadway hit, Finding Neverland. The musical was the account of the creation of the story of Peter Pan from the struggling playwrights eyes as he wars with his youthful spirit in a world of bleak adulthood. It is packed to the brim with electrifying group numbers, power ballads, and is sure to make you shed a tear or two.
Saturday and Sunday were mostly filled with free time as people explored the city. The highlights of the final two days were the workshop with a cast member of Wicked, attending the Broadway production of Aladdin, and touring through Central Park. After packing as much as we could into our last day, we all solemnly departed back to the LaGuardia airport to fly home at 8pm.
The trip was spectacular overall, and definitely illuminated the spark in the hearts of all of the theatre students that attended. Go on twitter to and look through the hash-tag #ATLtakesNYC to see all the action!
Twitter of the Acting Troupe of Lambert
Instagram of the Acting Troupe of Lambert
Featured Image from the Acting Troupe of Lambert Twitter
Donate to The Lambert Post