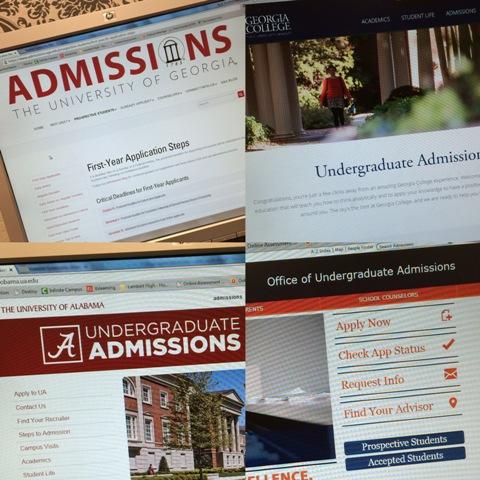 College applications: Stressed be not
For all of the seniors out there, college application deadlines are near, sending many into deep stress. It seems there are countless things colleges expect for the application process. No one wants to forget anything, or that could jeopardize their chances of getting into their dream school. However, why have anxiety over such a thing, when life could be made much simpler? Here is a list of everything seniors need for a basic college application.
1. First of all, students need to know where they are applying. It is important to take college visits. Don't worry; everyone has four excused absences for visits. Once a list is narrowed down, check the websites of the colleges to make sure to have everything that is needed that could be beyond this list, such as certain requirements, fees, and deadlines.
2. Make sure that a senior brag sheet is completed. It should already have been done; if not, it should be done as soon as possible. If needed, the brag sheet form is on the counseling section of the school website. Also, that is where extra information, college visit forms, transcript request forms, and more can be found.
3. Along with transcript request forms, it is required that a student applying to any school fills one out. Most likely, each school will need a separate form (unless on Common Application), each form costing $5. Transcript request forms are due in accordance to the application deadlines of each school; the schedule for form deadlines is on the counseling page of the school website.
4. Anyone who needs to take/retake the SAT or ACT needs to do it as soon as possible. Send scores through the testing website of the test you are taking so they are sent directly to colleges of choice.
5. Be sure that any required essays and/or teacher and counselor recommendations are completed along with an application. If a recommendation is necessary, give a teacher/counselor quite a bit of time to write one, as they may have many students to write them for.
6. Typically, applying to a university will have some kind of fee along with it. Make sure it is paid or else an application might not go through.
7. If applying for financial aid, keep up with those requirements and deadlines. Most can be found on a college's website. Also, DO NOT FORGET: just because a student qualifies for the HOPE or Zell Miller Scholarship does not mean that they do not have to apply. There is still an application process for these.
Now, one thing that can be greatly beneficial when coming to college apps is Common Application. Lambert counselor Mr. Neighbour says that Common Application is a "great tool." Starting out in the 70s, some schools came together and decided to create one application for all of the schools to make it easier to apply. Today, there are currently over 500 colleges on Common App. "Suppose a student is applying to five colleges, and four of them are Common App," Neighbour explains. "All you have to do is complete the Common App basically that one time and send it off." Teacher and counselor recommendations are able to go through this website, as well. If any colleges that a student is applying to are available on Common Application, be sure to check out their website and complete it there. However, make sure that if a school is not on the website to complete it through the specific school's website.
Lastly, one of the many decisions a student must determine when applying: early action. If one is doubting whether or not to apply early to a school, do not panic! Most students do not choose to apply early, but instead just do regular admissions. Mr. Neighbour states, "It really depends upon the college that they are applying to would how well qualified that student is for that particular college. Typically, early action is going to focus more upon the GPA and the SAT or ACT scores, as well as the student's academic rigor, depending on the school." It is essential to be aware of academic factors and standardized test score requirements or recommendations if participating in early action. These are crucial in determining whether a student will be accepted, deferred, or denied entry. However, it is perfectly okay to choose to apply during the regular time period. "All of these admissions types, it's really finding the one that best fits you as a student; that's going to be the best opportunity," Mr. Neighbour assures.
Even though senior year can be a stressful time due to anxiety over getting that acceptance letter, be sure to take a deep breath, take a step back, and get everything you need, because you will be walking at graduation and be on your way to college in no time.
Donate to The Lambert Post