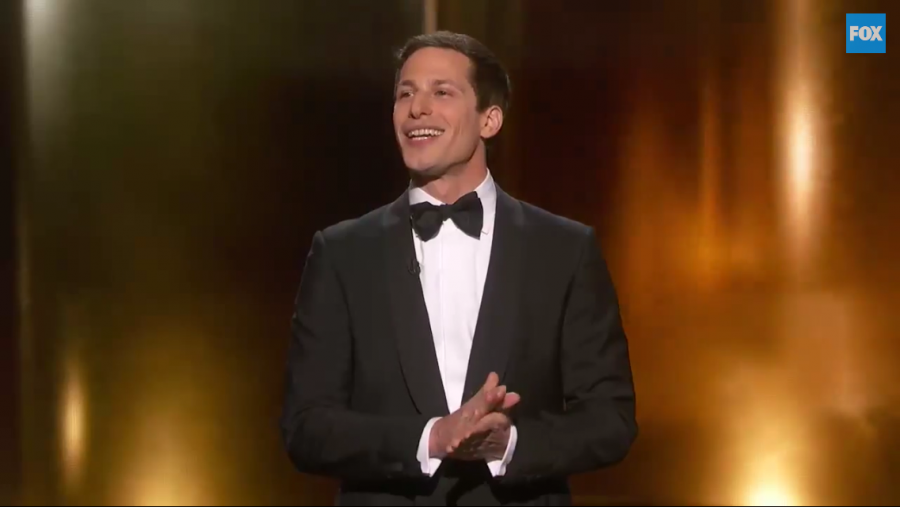 Screenshot of Official Emmy Awards YouTube video
Excitement at the Emmys
The 67th Primetime Emmy Awards aired on Sunday night, starting off with a hysterical musical number by host Andy Samberg. The number featured a bearded and malodorous Samberg emerging from an underground bunker, claiming to have "watched every show" and become an expert on the plethora of television shows captivating audiences this year.
Surprising few, Game of Thrones, HBO's monumental hit, was the big winner last night, taking home 12 awards and breaking the record for the most awards won in a single year. Peter Dinklage of Game of Thrones took home the best supporting actor award.
History was made in another way during the show when Viola Davis won best actress in a drama series, becoming the first African American ever to do so. She won the award for her role in the hit ABC drama "How to Get Away with Murder." Davis pointed out the lack of options for women of color in television and film in her speech, saying, "You cannot win an Emmy for roles that are simply not there."
In addition, Actor Jon Hamm finally won an Emmy last night, after being nominated for outstanding lead actor in a drama series eight times for his role as Don Draper in Mad Men. He quipped about his streak of neglect, remarking, "There's been a terrible mistake, clearly."
Comedian Tracy Morgan made a surprise appearance on Sunday, presenting the award for Best Drama Series. Morgan was involved in a car accident last year that left one of his close friends dead. But his humor and good nature shone through the lingering memory of the accident last night, leaving everyone in the audience with a smile on their face.
Although this year's ratings of the Emmys are down from last year, the award show still generated buzz on Twitter and Facebook, keeping the show relevant and accessible to its viewers.
Donate to The Lambert Post