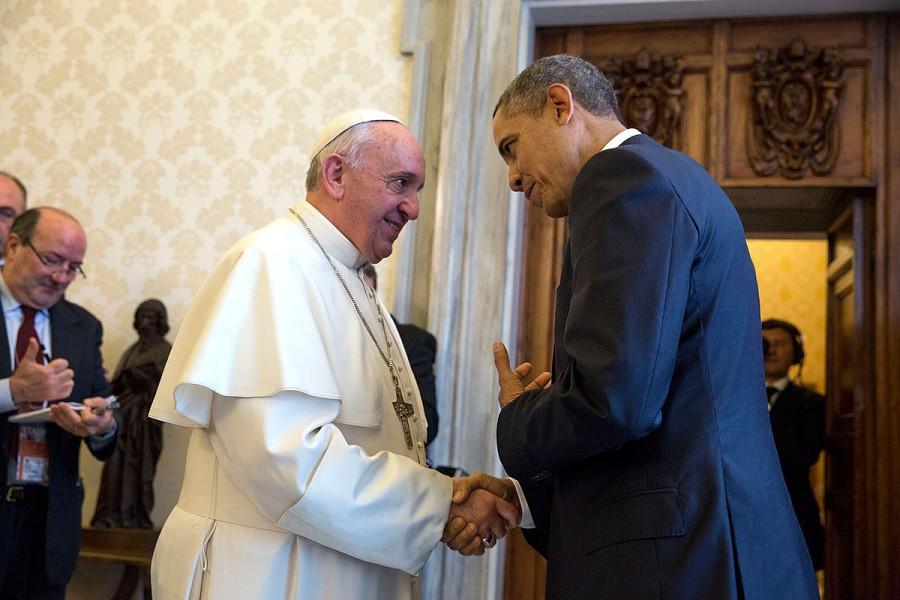 Official White House Photo by Pete Souza (Wikipedia Commons)
Why Pope Francis visited Cuba and the USA
Pope Francis took his first trip to Cuba on Sept. 19, beginning his 10-day tour through Cuba and the United States. Although his intentions are to encourage the Catholic scene in both countries, his actions are sure to shake their political realms as well.
Religion in Cuba occupied the majority of the pope's first speech. Under Communist regime, officials have impeded upon the faith of the practicing Cubans since the revolution. Both presidents, Fidel and Raul Castro, have both ruled Cuba under their atheist views. In gentle opposition, the pope advised today's leaders to provide "the freedom, the means and the space" for more religious expression. According to Vatican spokesman, Rev. Federico Lombardi, this would include opening Catholic schools, charities, and mission centers. If such a request were followed through, it would drastically transform the country and contradict its former history.
Three days later, his desires continued to resonate as he spoke over a public Mass at Holguin's Plaza of the Revolution. To complement his gospel sermon, he subtly interwove a second message: pursue peace with the United States.
Pope Francis preached, "Jesus' love heals our short-sightedness and pushes us to look beyond, not to be satisfied with appearances or with what is politically correct."
The United States and Cuba share a tense history, specifically involving the Bay of Pigs and the Cuban Missile Crisis. The Cold War enemies, however, are beginning to thaw their enmity and the pope has been supporting that cause immensely. Pope Francis, during the summer of 2013, sent a letter to both the American and Cuban governments, urging for the countries' reconciliation. In acknowledgement, the nations later held delegations in the Vatican that fall.
Today, Pope Francis was welcomed into the United States at 4pm. During his first trip in the United States, Francis will be the first pope to address Congress on Thursday, Sept. 24. The pontiff is likely to challenge the nation and its politics. He has priorities independent of Washington and he is not willing to veer from them.
Donate to The Lambert Post