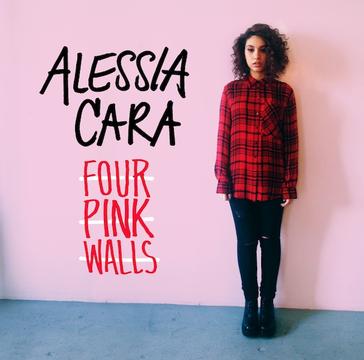 image used with permission from MOXIE
Alessia Cara: soon to be music legend?
Since the very beginning of music there has been several very talented artists that stick out and one day become world renowned musical legends. Elvis Presley, Whitney Houston, Michael Jackson, Madonna, Stevie Wonder, and Christina Aguilera are all legends for their melodious voices. So who is the next legend of music? It may be Alessia Cara.  Cara is a very talented teen singer whose songs relate to her audience in a strong way. She just a normal girl doing what she loves, creating music that relates to today's teens' everyday lives. Her hit song called, Here, relates to teens who do not want to fall into the same destructive habits as most of their peers, like doing drugs, drinking, and partying all night long. Her music video for this hit song shows others exactly what may be going on at the average high school. Cara also relates to young girls in her song, I'm Yours by showing you firsthand what a real high school relationship is like in her  music video. Cara is a great role model for young girls and a great comfort for young women. She is incredibly talented, relatable, and carries herself with dignity and respect. She constantly displays what it truly means to stay true to oneself.
Cara's music is very catchy and easily gets stuck in your head, in a great way. Her music is very relatable to just about everyone that listens to it. In her song, Here, she sings so beautifully and quickly that it almost sounds as if she is rapping but her voice is so strong that it shines through and makes the audience believe every word that she sings. But in other cases, such as her song,  I'm Yours, she sounds angelic . Her voice has many different tones and can be bent to her will easily. I believe her voice could also one day be iconic.
Elvis Presley once said, "The image is one thing and the human being is another. It's very hard to live up to an image, put it that way." This is what Elvis felt is what makes an artist, to not try to please others with an image that has already been used continuously by other artists, but to have your image be yourself and just sing from your heart. Alessia Cara truly does live up to this quote, and by these standards, she will one day be legendary for her music.
Donate to The Lambert Post
We always welcome comments from our audience, but we reserve the right to moderate and remove comments deemed inappropriate.