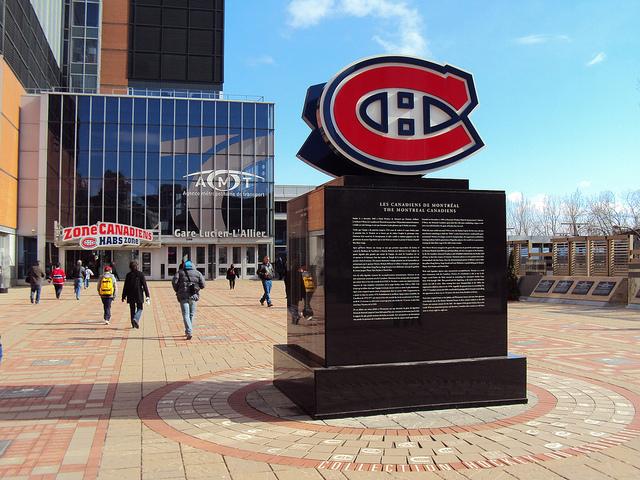 Andrew3000, Flickr
Why are the Habs falling behind, and would firing the coach help?
How does it happen that the team with the best start had the worst record in December and continues to fail? A rallying cry of "Fire Michel Therrien!" is often heard, but would firing Therrien actually help?
Let's look at the problems first:
The Habs are failing to score significant amounts of goals.

Too many goals are being allowed.

The power play is dysfunctional.

Players are swamped by injuries.

Puck possession is normally swayed towards the other team; the Habs are failing to keep and control the puck, as well as not intercepting and blocking passes.

And the list just keeps going on…..
This seems eerily similar to the 2008-2009 Pittsburgh Penguins- who also happened to be coached by Therrien, until he was fired in February. Looking at Therrien's career, he's obviously not the most skilled coach. Why is he here in the first place? Well, the general manager, Mike Bergevin, is a friend of his, and has stated that he is extremely loyal to him. Frankly, that's unprofessional, but the higher-ups are allowing it anyways.
Therrien's practice methods for the team were the basic routine, but now he has reintroduced a "vintage" style of practice, including heavy skating and line-to-line power skating. The majority of practices are optional for the players, with the exception of game-day practice. Having absent players means Therrien is unable to test new lines, which explains the minced game lines.
Some have joked about Therrien using a blender or other such scrambler to create lines, as they often have players in ridiculous combinations. Earlier in February, the Canadiens won three games in a row, which is a big deal for a team struggling to collect wins; however, Therrien changed the lines and Montreal has now lost two in a row. Coincidence? Perhaps, but it's doubtful. Usually, Therrien puts David Desharnais on the top line- which isn't the best idea. Yes, Desharnais is a good player, but is he top line material? Not over players like Galchenyuk. Anyhow, he's now down with a lower-body injury and has been replaced on the top with Eller.
The Canadiens seem to be plagued by a rash of lower-body injuries; currently, five players are sidelined with lower-body injuries. Carey Price, the Vezina winner, is the most noted of these players. He was covering up a lot of problems with the Habs, as he could keep goals against low enough for the Hab's meager goals to secure a win. Rumors about him are circulating through the press- some of him not returning through the end of the season and worse ones of his career being ruined forever. A video of him skating was released, and it showed that he could barely put weight on his injured leg, and he has not practiced in his goalie pads whatsoever. Daniel Carr, one of the Habs' best rookies, sustained a knee injury and may also be out until the season's end. Some have attributed this to Therrien's idea of making the team have a more "physical presence" on the ice. Though that does make sense, bad luck plays into it just as much if not more.
Additionally, some Habs players have gone a little "past their prime" and should be traded before they tank or fade away. An example player of this is Markov. On the flip hand, the Habs have trouble keeping good players as well; well-known NHL players Danny Briére and PA Parenteau once played for the Bleu-Blanc-Rouge, but left due to tensions with Therrien. Even current players are showing distaste for how their play is going.
If all of these together don't scream "bad coach", I don't know what would. However, Bergevin has stated he has no intentions to fire Michel Therrien, at least not until the end of the season.
The players aren't faultless; there are many examples of plays being "rough around the edges". Players aren't thinking with completed strategies and have sort of turned to a "desperate" style of play where they do whatever it takes to get the puck moving in their favor. Most shots taken on goal are not planned, readied shots; they are shots taken with the mere hopes that a goal will be scored. Additionally, they are allowing other teams to dominate in terms of shots and puck possession, which puts a lot of pressure on the goalie.
In any case, something needs to change, and it needs to change soon. Firing Therrien is very much in the interest of the team, but the infrastructure of plays needs work as well. Let's get as far as we can with Therrien, then decide what to do.