An Exploration of Creativity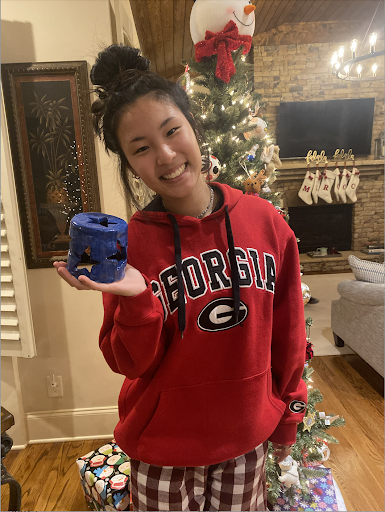 Oliva Devereaux is a Junior at Lambert who is taking the ceramics pathway. The class allows Olivia to use clay to her advantage and create beautiful sculptures out of it. Throughout the year, Olivia's imagination has expanded to new levels, and she has been able to explore adaptive art. 
 Olivia's favorite thing about the ceramics pathway is the ability to experiment. This class has challenged her to come up with new and creative projects. There is an endless capacity for the type of sculptures that she can make. 
The sculpture that she is most proud of is her candlelight holder. The project came out exceptionally well and showcased the new skills that she had learned over this year, including painting and designing patterns.
As for projects she regrets, she doesn't have any; she believes every project is an opportunity for improvement.
"I wouldn't say there has been a very bad project, but there's always something you need to approve on," Olivia said. 
Building a sculpture is a tedious process taking several weeks to complete. Olivia has to score the pieces she wants to use, slip the sides so that they fit with one another, smooth the sides together and then make any other decorations she wants to put on her creation. 
Once she has composed her creation, it gets fired, which is the term for bringing clay to an extreme temperature that allows it to bond together. Olivia then paints her sculpture and adds on any finishing touches as the last step. 
Olivia loves the course and the teacher greatly and suggests taking this pathway.
 "I definitely recommend taking this class- everyone I know loves the class and Mrs.Young."
Olivia plans on continuing the pathway next year and is excited about the new projects that she will create. 
Leave a Comment
Donate to The Lambert Post
Your donation will help support The Lambert Post, Lambert High Schools student-run newspaper! Your contribution will allow us to purchase equipment and cover website hosting costs.