Future Business Leader of America: Bhoomi Kotharkar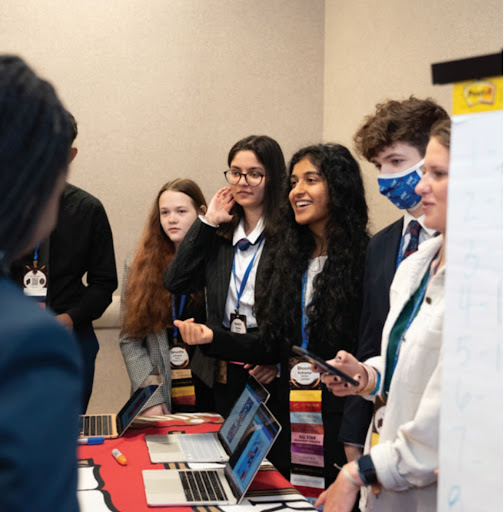 Future Business Leaders of America (FBLA) is the largest and oldest student-led organization in the world. The club is dedicated to helping students gain business experience and enhance their leadership skills. With over 520 members, Lambert High School is home to the largest FBLA chapter in Georgia. 
Within the last year, Lambert FBLA produced 64 regional finalists, 54 state winners and 13 national winners among the 226 competitive qualifiers. Lambert FBLA also donated over 600 items to Blessings in a Backpack and other charities to help the community. 
Lambert FBLA was recognized as 2021 Chapter of the Year for their outstanding accomplishments.
One of the people behind the enrichment and revival of this club is senior Bhoomi Kotharkar. 
Bhoomi is currently the president of FBLA and the FBLA Georgia State Ambassador for video. She explained that she must lead and direct over 25,000 FBLA members, perform memorized speeches and utilize her networking skills.
Bhoomi first joined FBLA in seventh grade, but having the responsibilities of a leadership position was once unimaginable for young Bhoomi Kotharkar.
"Growing up, I was so quiet and shy," Bhoomi stated.
Behind her quiet disposition, Bhoomi had dreams of bettering her community, delving into computer science and excelling in videography. She recognized that her timid character would prevent her from successfully pursuing her dreams.
"I knew I had potential, but if I stayed quiet and didn't do anything about it, there was no way anyone would know," Bhoomi stated.
She joined Lambert FBLA her freshman year in hopes of achieving a leadership position. However, that year she lost the FBLA officer election.
"I got that rejection and a lot of other candidates [who lost] fully quit, but I realized FBLA was something I was interested in my whole life and I couldn't just stop," Bhoomi stated.
From that point forward, Bhoomi immersed herself in the FBLA atmosphere by participating in competitions and utilizing all FBLA opportunities. This allowed her to make great strides in her FBLA journey in sophomore year.
"I won first place for coding and programming at state…this was like my first big award that I was actually proud of," Bhoomi stated. "I also got fourth for digital video production, which is my passion. I love editing videos."
Her passion for video editing translated to her serving as the FBLA media marketing manager in her junior year. During her tenure, she helped promote the club by posting montages and vlogs on the club's Instagram and Youtube channels.
"Every conference that we go to, every community service event that we do, every fundraiser," Bhoomi said." I'm always creating videos and documenting everything."
Bhoomi's most recent FBLA accomplishment is her Lambert oriented app called Lambert Hub.
Bhoomi spent over five months developing Lambert Hub with her partner Sanay Shajith for the National Leadership Conference (NLC). The app allows students to access the school's updated lunch menu, bell schedule, school website and a list of the school's extracurriculars. 
This school-spirited app helped the duo win third place in the country for the mobile application development event in NLC. 
  Bhoomi's participation in FBLA is a vital part of her life. She has traveled the country for FBLA events and made new friends while gaining leadership and social skills. 
"FBLA has branched out my network and I have found my true friends," Bhoomi explained. "I would actually say that FBLA has given me the opportunity to excel in various fields."
One of Bhoomi's most memorable FBLA opportunities was the workshop at the National Leadership Conference. At the workshop, Bhoomi had the chance to work with Monty Rhodes, the executive director of FBLA Georgia, and other FBLA alumni. 
"They were giving us presentation tips and after working with them for nearly two consecutive days I would say that I nearly perfected my presentation technique," Bhoomi said.
She also learned how to incorporate her energetic personality into her presentations and engage listeners, while still successfully informing others.
 Bhoomi has relayed these lessons to her FBLA peers in preparation for the Fall Leadership Conference this November. In FBLA, Bhoomi has imitated the NLC workshop environment and makes sure that the competitors master their oratorical skills, have a unique presenting style and effectively communicate their topic. 
Bhoomi strives to be an active Longhorn and proudly represents Lambert. She is appreciative of all the opportunities the school has provided. Her time at Lambert, whether it be with FBLA, SGA, or orchestra, has helped her transcend into the helpful, hardworking leader she is today. 
Bhoomi is a resilient and passionate student. She plans on being an active FBLA alumna next year and hopes to inspire more Longhorns. Her deep desire to gain more knowledge and help communities thrive makes her a true embodiment of Longhorn Pride.
Donate to The Lambert Post
Your donation will help support The Lambert Post, Lambert High Schools student-run newspaper! Your contribution will allow us to purchase equipment and cover website hosting costs.