Helping Others One Note at a Time: Divya Prasath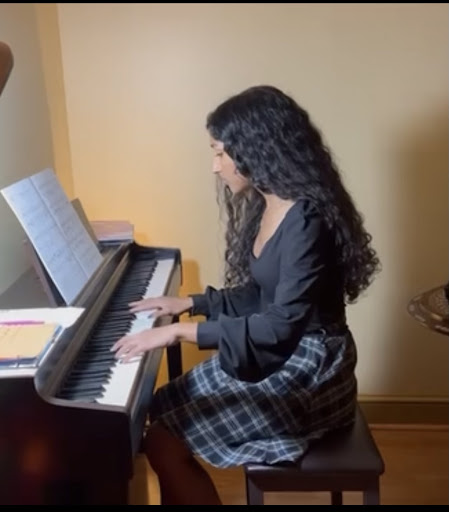 In the crowded halls of Lambert High School, students pass future entrepreneurs, skilled artists and groundbreaking researchers. Divya Prasath is one of these ambitious longhorns as a highly skilled pianist, dancer and computer science enthusiast.
Divya's most recent accomplishment is founding the first NoteLove Georgia chapter, a non-profit musical school where students learn how to play an instrument of their choosing. The first time she learned to play piano was in New Hampshire, and this experience was so impactful, she wanted to recreate it for her students. 
Divya learned piano on her dad's old Yamaha keyboard, which is where her love for music began. Her parents recognized her passion and signed her up for lessons. Divya credits a great part of her success to her parents motivating her to master the art of the piano.
"They gave me an incentive," Prasath said. "If you practice this many times and do well on your first exam then you can get an actual piano."
After a few years of practice, she was rewarded with a piano of her own. Divya's newfound expertise allowed her to teach her little brother, Pranav, how to play as well. 
Her piano lessons were put on hold when Divya had to move to Massachusetts. Although the change of environment presented challenges, she continued developing and pursuing her passion for piano. When she turned 16, new opportunities presented themselves. 
In search of volunteer organizations, Divya came across the NoteLove Boston chapter. NoteLove is a non-profit organization that provides students with instruments and musical equipment needed for them to learn the art of music. 
This opportunity catered to her interests and after applying, Divya became an online piano instructor. Her enthusiasm was recognized, and soon, she was known throughout the NoteLove community as a talented pianist with dedicated students. 
During the COVID-19 pandemic, her family moved to Georgia for her dad's job. The move was sudden; she only found out about the move three months before she arrived in Georgia. 
"I moved right after school ended in June and only had a month of summer vacation," Divya said. 
The move to Georgia was a hard transition for Divya. She had to leave behind her friends and wasn't able to say goodbye in person because of the pandemic. Navigating Lambert for the first time as a junior was also difficult. It took a few months for Divya to feel comfortable and find a peer group. 
Although she ultimately adjusted well, Divya missed one aspect of Massachusetts, teaching her students piano. She explained that she was still able to teach some of her long-time students virtually, but it was not the same.
With high ambitions, Divya decided to start her own chapter of NoteLove in Georgia. Working with her new friends she was able to develop the chapter to reach her goals. 
"We're recruiting people to join and once we get more students, we have fundraisers planned to help get musical equipment," Divya explained. 
Divya is a well-rounded individual and has other talents and activities in addition to her piano capabilities. Divya is passionate about artificial intelligence. She is a member of an AI research program called Veritas AI. In this program, she plans to use her image recognition and national language processing research to create cutting-edge technology.
"I am trying to improve image recognition for self-driving vehicles, " she explained.
She plans to take her passion to the next level by majoring in computer science in college next year, her top college being Georgia Tech. Divya is working to get a degree in piano, but she will also earn a diploma for the Indian cultural dance of Bharatanatyam by next year.
Divya is an ambitious, benevolent student and an asset to Lambert. Her resilience is admirable, and we cannot wait to see how Divya will change the world… one piano note at a time. 
Donate to The Lambert Post
Your donation will help support The Lambert Post, Lambert High Schools student-run newspaper! Your contribution will allow us to purchase equipment and cover website hosting costs.