Humans of Lambert: Carly Candebat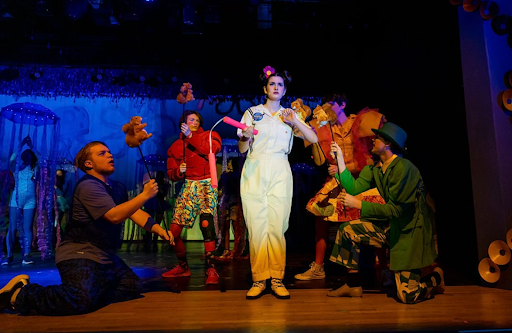 It is rare for young people to discover their passion early in life and have the opportunity to pursue it. Senior Carly Candebat is one of these anomalies who found her passion in high school for the arts.
Picking up chorus in fourth grade, Carly was excited to develop her ever-so-loved hobby of singing. After many practices, her singing skills developed considerably, which led her to audition for Aladdin Jr. in sixth grade.
cautiously optimistic for the results, she was chosen to sing in the ensemble. This first taste of a production is what inspired Carly to truly pursue theater in her life. 
"Being in a musical is what sparked the passion," Carly said. 
When Carly first entered highschool, she was unfamiliar with all of the new theater terms. There was an overwhelming amount of classes offered for theater students, ranging from Tech to Advanced Acting Class. 
Starting where most freshmen do, Carly was put into the tech class, where students work on all the technology behind the show. During her first year, Carly learned the way of  Lambert's acting troupe and stuck to costumes and props. 
As the years went on, Carly became entranced with acting, and came to recognize the amount of work that was put into each of Lambert's productions. Practicing everyday after school from 4-8 was just the beginning. She also had to know her lines and stage positioning in one day's time for her rehearsals. 
"The way the program is run is very professional," Carly said. "It's very professional in that sense because that's how it works in the real world."
Carly's favorite show she ever produced was the uncut version of Amelie. Not only was the show double casted, but it also was at the tail end of the COVID-19 year. It was a beautiful show that had a message that genuinely resonated with Carly. 
Theater was Carly's escape where  she was able to express herself around a group of people who became family to her.  She truly discovered herself on stage, acting out any character imaginable and expressing a myriad of emotions.
"I've played characters that are completely far away from my actual personality, but I've also played characters that hit a little too close," Carly said.  
Carly has won many awards for her performances on stage, gathering at least one for every year she's acted at Lambert. But for Carly, the awards don't make or break the performer.
"Yes, they should be celebrated but, at the same time, just because I got the award doesn't mean I'm better than you," Carly said. 
She attributes ATL's success to the clear mindset of not believing you are better or worse off than anyone else. She believes that any person can get casted for any single role. Her goal is to continue to make ATL a safe and equal playing field for all students. 
As Carly heads off to college at the end of this year, she has decided to major in theater. Her top school is Brenau University in Gainesville because of its partnership with the Georgia Theatre Alliance.
Carly is an exceptional actor and singer, and her bright future leads towards Broadway, as her passion continues to grow. With the support of all of Lambert, Carly will continue to shine on stage.
Donate to The Lambert Post
Your donation will help support The Lambert Post, Lambert High Schools student-run newspaper! Your contribution will allow us to purchase equipment and cover website hosting costs.