Humans of Lambert: Jason Eappen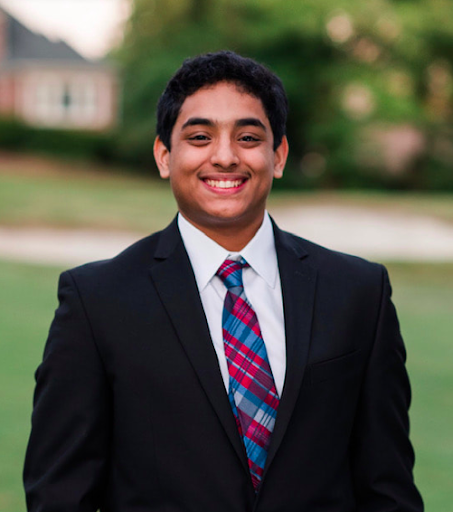 Senior Jason Eappen is known for his extreme passion for his many interests and goals. From being a competitive member in jiu jitsu and now a significant student leader in the field of education, Eappen has proven time and again that he has what it takes to achieve his goals. 
When he first expressed interest in martial arts, Eappen was set on joining taekwondo. However, after discussing it with his family, he decided to pursue jiu jitsu instead. It was a decision that would prove to be life changing as it helped him build the self confidence he needed to overcome his stutter and become a more well rounded high school leader.
 "Back then I had a really really bad stutter. I wouldn't talk in class, and I would keep to myself. But with ju jitsu you build that self confidence," Eappen said.
Over the years, Eappen went from his coach's first kid student to one of his best students, 
working with him for an impressive 13 years. 
His dedication and hard work paid off in 2021, when he competed for Team USA in a jiu jitsu tournament, marking his biggest achievement in the sport to date. He is currently a blue belt and plans to practice this art in college as well. 
Eappen's love of business, in addition to his passion for jiu jitsu, is what inspired him to join Lambert FBLA his freshman year. Since then, he has held the positions of Social Media Officer, Tenth Grade Officer, and currently, Vice President. He has also placed in various FBLA competitions such as regionals and state and attended the National Leadership Conference, proving that he has a knack for leadership and a dedication to his goals. 
His experience with business and his passion for education has led Eappen to build another community that truly sets him apart. In 2019, he started a small non-profit called HYPE, which aimed to offer computer science courses to underserved communities in South Georgia. Over time, the non-profit grew and partnered with bigger organizations, eventually hosting a UN summit. 
For Eappen, education is more than just a personal passion. It is something that has been instilled in him from a young age.
"From a young age, I was able to experience the fact that education is the biggest priority in life and something you need to grasp whenever you can," Eappen explained. 
This experience taught him that quality education is the key to success in life, and something that should be accessible to everyone. Eappen plans to continue being active in his non-profit throughout college and make it bigger and better.  
As he looks to the future, Eappen has set his sights on becoming a lawyer, but for now, he will be attending the University of Georgia in the fall to study political science. With his hard work, dedication and passion for education and politics, there is no doubt that Eappen will continue to make a difference in the world around him. 
Donate to The Lambert Post
Your donation will help support The Lambert Post, Lambert High Schools student-run newspaper! Your contribution will allow us to purchase equipment and cover website hosting costs.