Humans of Lambert- Krisha Patel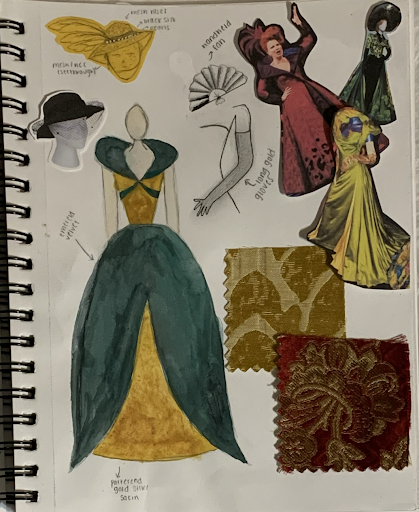 Krisha Patel is a sophomore at Lambert High School who has a passion for fashion design. This year, she got the opportunity to start her own fashion club, create her own designs and bring her designs to life in school productions.
Krisha's love for fashion started at a young age, when her grandparents taught her how to sew. Using their guidance as a stepping stone, Krisha began sewing clothing scraps together in her spare time. By middle school, she was able to create her own clothing. 
Popular culture and media (television shows and movies) had a lot of influence on Krisha's love of fashion.  Characters who were able to overcome obstacles but still find a way to embrace style inspired her.
"'Cruella' was a very inspiring movie, she didn't have a lot of opportunities around her but she was still a designer," Krisha said.
A staple for Krisha's designs would be a feminine look, as she enjoys more elegant designs. This also reflects Krisha's favorite piece to make: dresses. She loves how graceful dresses are and is constantly making them. 
At the moment, Krisha's favorite kind of pieces to design are from the regency period, with shows like "Bridgerton" being a significant influence for her. She loves the look of corsets and the extravagant ball gowns that were prominent throughout that time period.
Krish is currently working on designs for Lambert's production of "Into the Woods." Krisha has been appointed as one of the costume designers and is working on multiple pieces for the show. 
"Right now we just started making ball gowns," Krisha explained. "I've been helping make the skirt portion."
Since the dresses are so big, the top and the bottom are made separately. With the help of her costume team, she is able to create ball gowns for the characters of "Into the Woods." They are in the middle of production at the moment, but by the end she believes the dresses will turn out wonderful. 
Another fashion based extracurricular Krisha is involved in is her fashion club. They have hosted four meetings so far and the club has seen great success. They have had a guest speaker from UGA, hosted embroidery workshops and worked on special skills for models. 
Krisha has a love for fashion and encourages others with the same passion to pursue it.
"If you have a passion for fashion just do it because you never know what could happen," Krisha remarked. 
Krisha's love for fashion has led her to make new friends and discover new opportunities. With the support of her family and her passion for designing, she has been able to create anything she imagines. 
Leave a Comment
Donate to The Lambert Post
Your donation will help support The Lambert Post, Lambert High Schools student-run newspaper! Your contribution will allow us to purchase equipment and cover website hosting costs.