Humans of Lambert: Libby Mangum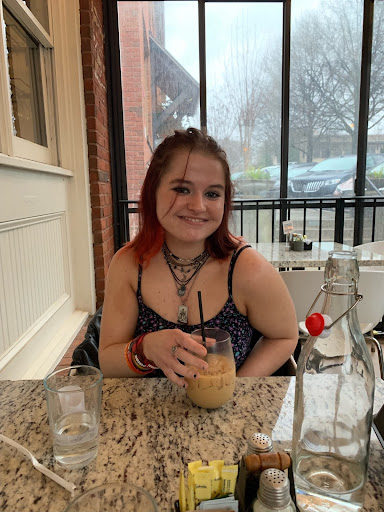 While the interest for careers in STEM gains traction, there are still students who are passionate about communicative arts. Libby Mangum is a Junior at Lambert and has big aspirations that stem from her vivid imagination. Her social and confident demeanor knows no stranger and allows her to excel in the things she's passionate about.
Libby found interest in film at a young age as she enjoyed recording herself and vlogging everyday. She went to Wesleyan her Freshman year, but after seeing it was a better fit, she transferred to Lambert. She instantly found her place in the audio and visual technology pathway as it aligned with her interests. 
Mangum is in the second level of AV tech and her favorite part of taking the class is the creativity she is able to embrace through her projects.
"I love writing stories, that's what my class knows me for," Libby said. "So when we get projects, I love being able to write the stories and come up with creative narratives."
While the class is a channel for Libby's built up creative energy, it can be stressful due to all the projects that require filming outside of school. It's especially challenging to find dates to film with conflicting schedules. Along with the involvement that is required outside of school, there's a lot of dynamic personalities with varying skill levels that can add onto the layers of existing stress.
The gratification that Libby derives from the class outweighs all the negatives and stress factors. Her favorite part of filming projects is, 
"Seeing the story that you create come together while you're filming," Libby explained.
Along with writing, Libby enjoys directing and being behind the camera. Her favorite project that she's worked on was a holiday trailer that was assigned to her class before Christmas break. One of the best aspects of the class is the creative freedom that Coach Schneider allows. The only requirements for the holiday trailer were that it had to be between 2 ½ to 3 minutes long. When she noticed how much she enjoyed filming the trailer and didn't feel any stress from the project, it made her consider pursuing film in the future.
Libby's personality is very assertive, which helps her to lead her film groups. Rather than being turbulent and watching the action take place, she wants to see her visions come to life. Her commanding personality is known in her classes and she's never scared to be the first one to answer all the teachers' questions in class. It carries into AV tech because she is confident in her abilities and is comfortable with necessary confrontation. 
In this next semester, Libby plans to make a short film outside of school. She plans on spending more time behind the camera, rather than being in front of the camera like she did for the majority of the first semester of this year, so that she can learn what her strengths are. As for her long term goals, she dreams of being a writer and directing an adaptation of a book she writes into a movie. 
"Or even being a writer for SNL, I think that would be so cool," Libby said.
Libby's extensive interest in writing and reading is a culmination of her strong imagination. When she was younger, she wrote stories in her free time and has always enjoyed writing assignments she had to complete for school. Nowadays, she finds joy in writing fictional contemporary style books because she can relate to the characters more.
"I find writing is very cool because you can do a lot with it, and it's yours," Libby said. 
She is mostly interested in young adult fantasy and aspires to write her own book, but has struggled to bring it to life. The most important component of books for Libby are the characters, as they make or break the book for her. 
"My favorite thing about books is the complexity of characters and the way they interact with other people," Libby stated.
Another way that Libby enjoys to channel her creative energy is through music. She's always enjoyed listening to music, and in recent years, she has been able to create music with inspiration from artists she loves such as Taylor Swift and Phoebe Bridgers. Her vast music taste is composed of artists like Mistki, Clairo, Rainbow Kitten Surprise and honorable mention of One Direction. 
Music is special to Libby because the lyrics written by her favorite artists are complex     
and confusing at times, but she thinks that's important so that the true meanings reach their intended audience. 
"I don't think I realized that at the time, but I think [music] was very much like a coping mechanism and it still is," Libby said.
 Creative works have always been a safe place for Libby and she hopes to provide that to others in the future through her contributions to the world from her imagination. Libby's dynamic personality adds to the uniqueness of Lambert and inspires others to tap into their imagination and creativity. 
Leave a Comment
Donate to The Lambert Post
Your donation will help support The Lambert Post, Lambert High Schools student-run newspaper! Your contribution will allow us to purchase equipment and cover website hosting costs.