Humans of Lambert: Sanzy Kothari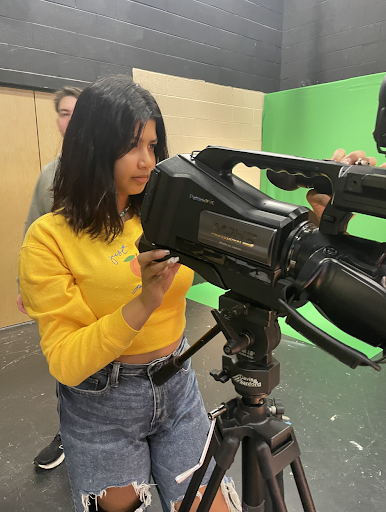 People hope to achieve perfection in many facets of life, whether it be academia, work or hobbies. Sanzy Kothari aims for perfection in the creation of short films and media to express her inner passions and interests. 
Sanzy's interest in filming began during her elementary years in California, while making live-action movies with friends. She considered these videos as one-offs, a standalone film is a film that does not have any relation with other films, rather than an expression of who she was or her passions. 
Sanzy turned to film as an escape when she was living in India. She greatly admired cinematography and how film can capture stories and emotions. From then on, she was hooked. 
"When I found film I was like 'Oh wait, this is really cool. I can do whatever I want,'" Sanzy said. 
In the following years, Sanzy continued to explore filmmaking, watching and learning from the greatest directors of all time. She then came back to America, where she discovered that film was a pathway offered at her high school. 
Sanzy was taught about the basics of the industry: the 1/3rd's rule, lighting and script-making. Surrounded by like minded people, Sanzy had an environment to nourish her ideas and produce outstanding films. 
Sanzy's work became recognized, making her a well-known student in the filmmaking pathway. She continued to work on her short films, and even decided to submit one of them into a competition. 
She submitted her film, "The Answer," into the Viking Fusion Film Festival, with the intention to place in the competition. The film depicted a teenager navigating through life and choosing her passions. A week before the festival, she got an email saying she got nominated. 
The day of the festival, Sanzy and some of her classmates wore all their best dresses and suits. Sanzy's film was screened in front of a large audience, and she was able to see their live reactions to her film. 
Sanzy ended up winning first place for her film, securing her spot as a recognized film maker. After the event, a multitude of audience members congratulated and praised Sanzy's creative film.  
"There was this one girl who came up to me and told me that my film made her cry," Sanzy explained. 
This year, Sanzy wants to participate in more film festivals, specifically the All American High School Student Film Festival. This festival is a contest where students all around the country submit a ten minute short film, for a chance to win scholarships. 
Sanzy has decided she wants to continue this passion into college, majoring in film. She knows the industry is tough and unstable, but is excited for the opportunities and outcomes that may come. 
Sanzy wants to receive an education at the University of Southern California, a highly ranked film school, to advance her knowledge. USC is infamously hard to get into, as it is the oldest private research university in California. 
"Getting in there is a big deal; I would love to go there," Sanzy said. 
Since California is the center for filmmaking, Sanzy would love to be accepted into any California college. While there, she hopes to make connections that will help her career in the long run. 
Sanzy's passion and skills will lead to her success wherever she goes. She hopes to make an impact in the world, and allow others to be heard. Through her filmmaking career, Sanzy will illustrate the world through a truthful lens, encouraging her audience to think about the world through a new perspective.
Donate to The Lambert Post
Your donation will help support The Lambert Post, Lambert High Schools student-run newspaper! Your contribution will allow us to purchase equipment and cover website hosting costs.