Humans of Lambert: Suma Sesay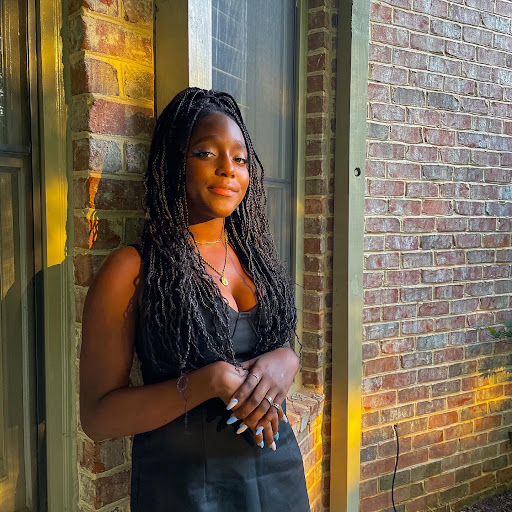 Suma Sesay is a junior at Lambert loved by many for her infectious spirit that knows no stranger. She extends her involvement over a wide scope and her impact on her community and those around her is impossible to not notice. She is a Junior Officer for the Acting Troupe of Lambert (ATL), Secretary for the Black Student Union (BSU) and Vice President of the Book Club.
For as long as Suma can remember, she has been playing soccer. When she tore her ACL her freshman year due to a skateboarding accident, she decided to start taking acting classes because she wasn't able to commit to school theater yet. During middle school, she was a member of the drama club and performed two plays. She loved the feeling she got from being on stage and decided she wanted to pursue acting and theater instead of returning to soccer after her recovery. While Suma thoroughly enjoyed the time she spent playing soccer but decided not to return to the sport after being out of the regular training for so long.
"It was really doing shows and the way it made me feel when I was on stage," Suma said.
Suma's favorite part of being involved with theater is the people she gets to know and spend so much time with. While preparing and rehearsing for shows, the cast becomes a second family because of how big of a time commitment it is. 
The most challenging part of theater for Suma is "staying sane during tech week." Tech week is considered the time frame that leads up to opening night and consists of finalizing rehearsals and other factors necessary for a successful debut. It's challenging for Suma and other students to be present and work hard for five hours every day outside of school in the midst of a rigorous course load and emotional factors. As a Junior Officer, Suma takes initiative by being an uplifting spirit for those who look to her during this time. 
This year, ATL is performing "The Spongebob Musical." Students in the program have been working tirelessly to nail the performance and implement different tech elements to make sure the show is as good as it can be. Suma and other students are so excited to see their hard work pay off. 
"I'm just excited for everyone to see it," Suma said. "It's a really, really good show and we've worked really hard on it."
Suma's always craved the feeling she got from being on stage in plays and wants to continue in a career of acting when she is older. Although she aspires to pursue the criminal justice field as a lawyer, she can't imagine herself not being involved with acting and theater. She admires actors like Sydney Sweeney who have pursued college careers while still filming and shooting for shows and movies. 
"[Acting] is really something I don't know how I could go on without ever doing anything like that again," Suma said. 
Beyond theater, Suma is the secretary of the Black Student Union (BSU). It's been one of her favorite projects that she's worked on this year because she's been able to facilitate so much change and growth in her community. Formerly known as African Americans: Inspired and Motivated (AIM), the BSU holds biweekly meetings where students of color can come together and find a community within Lambert. Suma was an AIM member during her freshman and sophomore years, she saw that the club was helpful and informative, but that it still had room for growth. When the number of students attending began to dwindle because of the high number of virtual students, she decided to apply for an officer position so that she could help revamp the club to run smoother and define long-term goals. 
With the help of their sponsors, this year has been very successful for the BSU as there is a larger, consistent group of students who attend every meeting. 
At the start of this year, Suma and her friend, Kristen Choe, started a book club. Every month, there is a different book for members to read and talk about when they come together for their monthly meetings. Although it's a seemingly simple club, Suma and Kristen envisioned their club meetings to be a comfort for its members and a way for students to find a sense of community within Lambert.
"We wanted it to be a safe space where anyone who is interested in reading could come together to read and talk about it," Suma said.
Suma's impact on Lambert has been prominent and noticeable in her three years of being a Lambert Longhorn. She is excited to continue to facilitate change and to see where her ambitions take her. 
Come support the Acting Troupe of Lambert's "The Spongebob Musical" at their debut, this Thursday at 7:00 PM. Get tickets here.
View Comments (1)
Donate to The Lambert Post
Your donation will help support The Lambert Post, Lambert High Schools student-run newspaper! Your contribution will allow us to purchase equipment and cover website hosting costs.