Lambert High School embraces Red Ribbon Week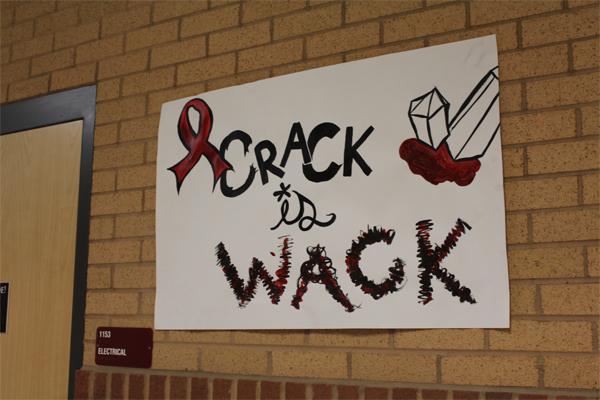 Lambert faculty and students reveal their support the oldest and largest drug prevention campaign in the country, Red Ribbon, this week October 23 – 29 by creating effective anti-drug posters and devising activities for students to participate in throughout the week that promote the Red Ribbon Campaign's mission and 2016 theme.
This year's national Red Ribbon theme is "YOLO. BE DRUG FREE." The theme is designed to remind students that they only live once and therefore should make the best decisions possible. The campaign's website states that "the Red Ribbon serves as a catalyst to mobilize communities to educate youth and encourage participation in drug prevention activities."
Lambert has created a new theme and activity for each day of the week (with the exception of Friday) that students will be able to participate in:
Monday – "Wear Red"
Students are asked to wear red to endorse the campaign and its message.
Tuesday – "Don't be a Dum-Dum"
Faculty and students hand out "dum dum" lollipops with an attached anti-drug message to get students thinking.
Wednesday – "Sock it to Drugs"
Students are asked to wear crazy socks to show their support for the anti-drug movement.
Thursday – "Team-Up Against Drugs"
Students are asked to wear their favorite team colors or team sportswear to display their participation.
Various posters placed throughout the school are accompanied by anti-drug slogans such as "Do Math, not Meth" or "Get High on Life, not on Drugs" to reinforce the importance of remaining drug-free.
In accordance with Red Ribbon Week, Lambert reminded students to attend the 6th Forsyth County Drug Summit on October, 24th at 6pm at the Forsyth Conference Center at Lanier Technical College. The Summit allowed for children and adults of all ages to be informed on ways and tactics they can use to protect Forsyth's community from the devastation drugs can cause.
Leave a Comment
Donate to The Lambert Post
Your donation will help support The Lambert Post, Lambert High Schools student-run newspaper! Your contribution will allow us to purchase equipment and cover website hosting costs.