Polly Sarno: The Road to Recovery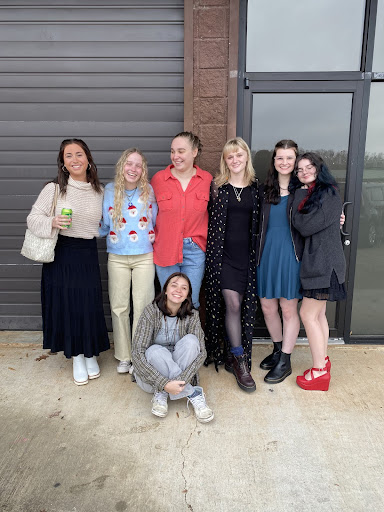 Disclaimer: (TW) This article discusses content surrounding drug abuse, addiction and self-harm. If you are struggling with any of the issues above and are searching for support, here is a link to search for help centers near you.
"Things get better." 
"It will always pass." 
These mottos have motivated senior Polly Sarno in her drug abuse recovery.
Polly was introduced to drugs in middle school, but when she entered high school, she turned to drugs as a mechanism to cope with trauma. 
Her parents tried several times to help Polly manage her addiction, but these interventions were unsuccessful. Polly explained that it wasn't until she had the desire to change her habits that her recovery journey began.
  For over a year, Polly has been in a program called Full Circle. The program allows addicts and recovering addicts to build a community and encourage one another to stay sober.
"I liked [Full Circle] at first…obviously it was hard," Polly said. "I relapsed and self-harmed like a week into it."
After her relapse, she felt guilty but took the initiative to tell her support group and her family. Initially, Polly believed that if she veered off her recovery path, there would never be a chance for her to become sober. Full Circle dismantled that dangerous premonition. 
Polly learned that "relapsing is a part of recovery," and this sentiment helped her continue her sobriety.
During Polly's first 90 days in Full Circle, she heard addicts' stories and felt more comfortable in the program. She explained that seeing her peers relapse and leave the program was difficult, but she did not let it stop her journey.
As her love for the program grew, she became a part of Steering Leadership, where she assists new members in the Full Circle Program. 
Polly frequently attends Full Circle meetings to surround herself with drug-free environments and continue the program's lessons. 
Currently, Polly attends Full Circle meetings about three times a week and participates in enthusiastic sobriety functions, where they encourage sober fun. 
 Polly has taken her recovery outside Full Circle as well by getting involved in the Forsyth County Drug Awareness Council.
"It's really cool," Polly said. "I have done drug summits for the county and I am doing a drug prevention walk this Spring with Shatterproof, an overdose prevention organization."
Polly made it clear that along with her genuine, internal willingness to recover, Full Circle has played a crucial role in her journey. 
She loves the parental incorporation aspect of Full Circle. Polly's parents attend meetings that help them heal, learn about recovery journeys and communicate effectively.
"That's probably one of the coolest parts [of the program] to me…the family," Polly said. "Being an addict doesn't just affect the addict; it affects the people who love and care about them." 
She also appreciates how Full Circle employs counselors who have battled addiction. Polly's counselor helped her enjoy the program and gave her hope.
"That was a big thing for me, just realizing that I am not above or below…like I'm equal to the people I'm in here with," Polly said. 
With Polly's determination and support, she celebrated 18 months sober on November 17th with a family dinner at Ted's Montana Grill. 
"I had this realization that I should be proud of myself," Polly explained.
Polly understands addiction and wants to share her story to inspire and educate people in her community. 
"I feel like a lot of people at Lambert are in denial that there is a [substance abuse] problem," Polly said.  
Polly's journey has sparked her passion for spreading mental health awareness and helping people who struggle with drug abuse.
"I want to be a counselor and help other youth[s] get sober," Polly said. "I just feel like the people who helped me…I just wouldn't be here without them, so I want to do that for somebody else."
The Lambert community thanks Polly for her bravery and strength to speak about her experiences. As of now, Polly is looking forward to her next milestone — completing two years of sobriety. It is clear that Polly has a bright future ahead of her.
Donate to The Lambert Post
Your donation will help support The Lambert Post, Lambert High Schools student-run newspaper! Your contribution will allow us to purchase equipment and cover website hosting costs.