A Look Into Honors Societies at Lambert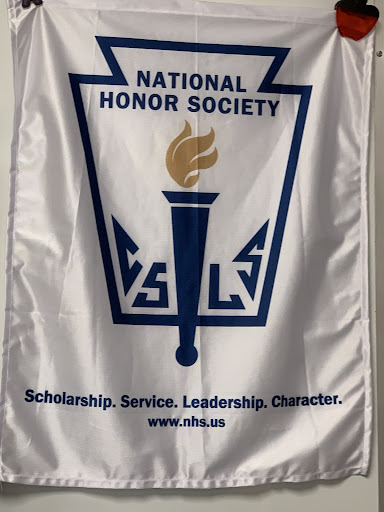 With the start of the 2022-2023 school year, students at Lambert High School are looking for ways to get involved in the Longhorn community that demonstrate excellence. One of the activities that achieve this duality is joining The National Honors Society and other specialized societies such as Mu Alpha Theta, National English Society and National Art Society.
The benefits of participating in these prestigious organizations are being recognized as a member of an elite organization and putting a holistic angle on your applications for college. National Honors Society values students who prioritize service over self-interests and requires students to attend all 4 meetings and complete 20 mandatory service hours. 
However, being a part of NHS and others has certain requirements. Being a community service based club, it requires a certain GPA and chooses students who demonstrate integrity. The four main pillars of the National Honors Society are scholarship, service, leadership and character — all of which are looked for in applicants. 
"To me, the two main ones here is that the scholarship gets you eligible, the service part is what puts you in good standing," NHS sponsor Mr. Gray said.
NHS differs from other honors societies due to its strict eligibility requirements and a more extensive application. With a more thorough application, students are able to show themselves holistically as a person and exhibit how they align with the four pillars of NHS. 
"There are things that students do outside of Lambert, that when you read their applications, is absolutely amazing," mentioned Gray. 
The NHS President, Daisy Guillory, explained the ideal NHS member. 
"It's any student who performs well, has integrity, has the initiative to join and maintain service hours," Guillory said. 
Along with NHS, there are other societies that carry certain niches, allowing students to participate in activities and volunteering events that align with their interests. For example, the National English Honors Society (NEHS) provides opportunities for people who enjoy reading, analyzing and writing things, want great scholarship opportunities, writing competitions and have a genuine interest and passion for the subject. Mrs. Smoot, the sponsor for NEHS, spoke on certain aspects of the society.
 "NEHS is at the high school level to reward and recognize those who are really outstanding in the area of English and writing communications," Smoot stated.
Another aspect of the interest-based honors societies is they are driven more by a genuine interest in the club as opposed to exclusively being a high-achieving student. 
"Our organization doesn't require as many hours of volunteering as other organizations, not because we don't value volunteering, but we recognize that our Lambert students are so involved, they're in so many clubs and organizations, they have so many volunteer hours they have to do," Smoot explained. "I feel like only requiring 8 hours is enough for lots of excellent members, but that is not a requirement for joining NEHS."
If a student is interested in demonstrating excellence, while also becoming more involved at Lambert, joining honors societies is a great way to start. Programs are accepting applications this fall. This is a great opportunity for all eligible students, and they are encouraged to apply! For more information, visit Lambert's website.
Donate to The Lambert Post
Your donation will help support The Lambert Post, Lambert High Schools student-run newspaper! Your contribution will allow us to purchase equipment and cover website hosting costs.