Doing Good Through Crayons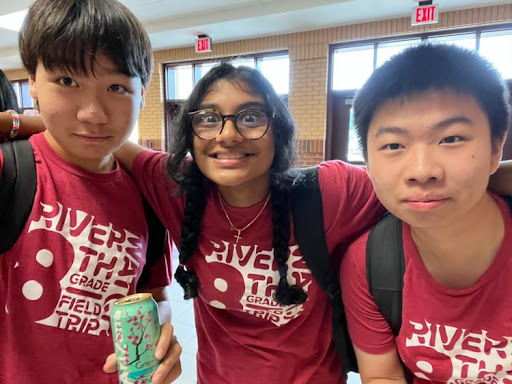 Distributive Education Clubs of America (DECA) is an organization that allows students to explore the marketing sector and have applicable experiences that can set them apart from others in the business world. Lambert High School's DECA chapter is the third largest in the state of Georgia and 10th largest in the world. Students involved with DECA have the opportunity to choose from an array of competitions targeted towards their interests. Isabella Easow is a freshman who is completing the community giving manual with partners Sean Lee and Eric Zou.
Through the community giving manual, students find a solution to a problem in their community in order to execute a community service project and document it through a 20 page manual to present to judges at state and national level competitions. When working to identify a cause to devote her project to, Easow got the idea from advisor Ms. Mazzei to work with the Crayon Initiative.
The Crayon Initiative is a non-profit organization that repurposes old crayons to be sent to over 240 pediatric hospitals across the country. By reusing thousands of crayons, the Crayon Initiative is able to mitigate pollution and provide a source of happiness for pediatric patients.
When Easow initially heard of the organization, she immediately felt an affinity towards it and began to work towards her goal of helping them and completing her competition. 
"I really like community service, so when I saw this opportunity I was all for it," she said.
She started by establishing a connection with founder Bryan Ware. After meeting with him, she was enlightened on the realities of running a non-profit for over 11 years and began planning for her project.
"I just want everyone to know that running a nonprofit is very hard," Easow said. "Especially raising awareness for these companies; [it] just makes the people who run them a lot happier and they get to do what they love to do."
According to the Crayon Initiative, over 500,000 pounds of crayons are discarded throughout the country, equating to roughly 60 million crayons per year.
These crayons are made of petroleum, which is toxic to the environment, and they don't biodegrade when they get to the landfills.
In addition to preventing harmful substances from impacting the environment, the organization succeeds at providing a way for pediatric hospital patients to reconnect with their youth and find light in the midst of hard times.
"I love that they're providing a way to make a change without having to start it all by yourself," Easow said.
If you are looking for a way to serve your community, or even to just get rid of some old, broken crayons, consider donating them to the Crayon Initiative through Isabella Easow and her partners! There will be boxes outside of any marketing or business teacher's room as well as giving them directly to Isabella Easow, Sean Lee and Eric Zou. They will be happy to receive donations from now to December!
"All I want people to do is look in that closet they haven't seen in years and go look for that bag of crayons because everyone has them." Easow continued, "Just take the time to look."
Make sure to follow their Instagram account to support and stay updated along their journey!
Donate to The Lambert Post
Your donation will help support The Lambert Post, Lambert High Schools student-run newspaper! Your contribution will allow us to purchase equipment and cover website hosting costs.