Expression at Open Mic Night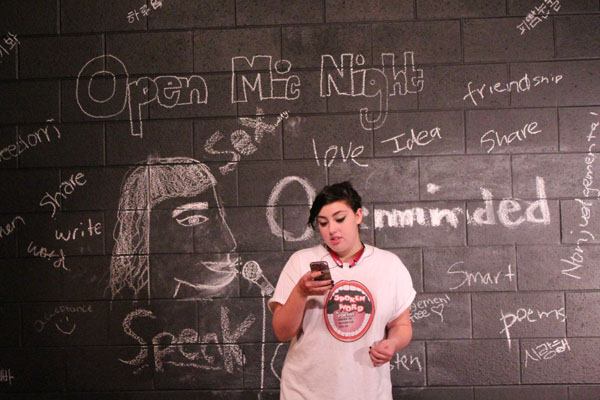 In the school's dimly lit studio, Brianna La Rocca, Vice President of Lambert's Spoken Word Club, stood in front of six or so students to start the Open Mic Night on Thursday, Nov 3rd.  She read a Spoken Word piece titled "Can We Autocorrect Humanity?", written and originally delivered by Prince EA.
The ice now broken, Eric Zhu, a sophmore, bravely took La Rocca's place in the spotlight. He delivered a few original works, such as "We Are Young" and "My Northern Angel". Once he finished, the other members let out a round of soft snaps to nonverbally communicate their approval. A silence ensued before freshman Hafsa Smith rose and walked to where Zhu stood moments before. Smith read one of her own originals titled "Light at the End of the Tunnel" and a couple of original pieces by her friend, Kat Shattuck. When Smith sat back down, Zhu recited a handful more of his original poems, like "The Easy Way Out".
La Rocca closed the Night with another work by Prince EA, this one called "Dear Future Generations: Sorry".
Though the event started at 5 and was supposed to end at 7, the lack of speakers forced the night to end a little early. However, no one seemed bothered because the members spent the rest of the night chatting and eating the free refreshments provided.
Leave a Comment
Donate to The Lambert Post
Your donation will help support The Lambert Post, Lambert High Schools student-run newspaper! Your contribution will allow us to purchase equipment and cover website hosting costs.