Lambert's New Rules On Course Changes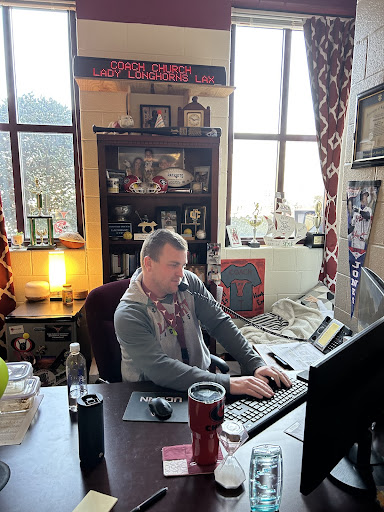 Going into the 2023-2024 school year, Lambert High School has and will be making a few changes to the process regarding class placement. Ensuring there is an appropriate student-to-teacher ratio is a hurdle that Lambert counselors have to jump over each year. 
"We are here, and our ultimate goal is to make the experience for [students] the best possible," Lambert counselor Coach Church mentioned. 
The process for choosing courses will be mainly the same, with some key changes in order to ensure success. 
"Teachers will recommend you for courses, especially core courses," Coach Church said. "And if you wish to move up a level from what you were recommended for, there is the online course consideration waiver we have students fill out."
New changes include choosing courses earlier, filling out the course change forms earlier and making the process of dropping out of classes more thorough. 
"One of the biggest things that's different is, we have run into a lot of issues regarding students going against what their teachers recommend," Church stated. "Your teachers are the ones who place you, for you to be the most academically successful."
 By ignoring their teacher's recommendation, students tend to overexert themselves and subsequently end up dropping down to a lower difficulty class. This can lead to many scheduling issues, as classes are often already full by the time students request a course change.
"We are going to make students accountable for the decisions that they make," Church said. 
 Changes have also been made so that the teachers also know what they will be teaching next year. It also makes it easier for hiring purposes, ensuring that the most qualified teachers can be hired earlier. 
"If we have five sections of precalculus that we need, we know that we have to hire at least one precalculus teacher," Church said. "The earlier we know that information, the better position we are putting ourselves in as a school."
Establishing a bright future for each student and allowing them to take the courses they want to to be successful in is the main goal of Lambert counselors. 
"Colleges are looking for mentally healthy students and well rounded students, not strictly students who are loaded up on seven [Advanced Placement] classes," Church said. 
For the upcoming school year, staff is hopeful that things will be able to run more smoothly and students can have the best year possible.
Donate to The Lambert Post
Your donation will help support The Lambert Post, Lambert High Schools student-run newspaper! Your contribution will allow us to purchase equipment and cover website hosting costs.