Lambert's New Truetoyou Club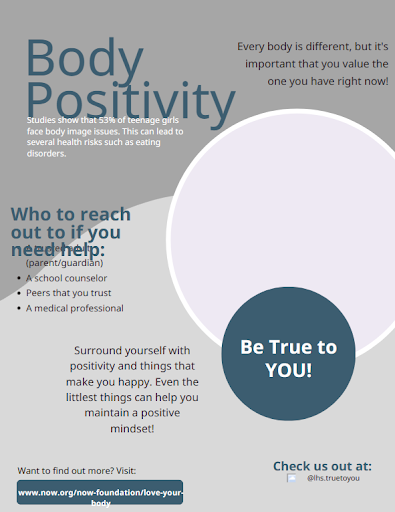 LHS TrueToYou is a HOSA mental health promotion carrying the slogan "You define yourself." The goal of this mental health campaign is to spread awareness about body positivity since many teenagers struggle with body image issues. It will be competing along with other mental health campaigns at its State Leadership Conference (SLC) on March 2nd.
Problems with body image is a wide ranging issue that impacts a plethora of students, from middle school and beyond. 
"It's a campaign for body positivity where we try to engage with our community and our peers to promote how to love your body and give enough respect to your body," member Rishitha Muppavarapu commented. "And also making sure how you look isn't consuming your thinking."
Krithika Belda, Rishitha Muppavarapu, Krisha Gelli, Shreya Patel, Hafsa Mirr and Nikita Sahgal are members of this campaign. Leading up to competing with other mental health campaigns, the group makes multiple efforts to reach and impact as many people as possible.
Methods of outreach include making multiple posts on their Instagram @lhs.truetoyou. 
"We do a bunch of socials and other posts just to make sure [students] feel acknowledged," Belda stated.
Other methods the group took used was holding a Pajama Social, partnering with a mental health consultant. In addition, the group held a pizza fundraiser at YourPie, making brochures and creating a podcast on Spotify. All of these routes help students connect with others and raise awareness about the topic in general.
TrueToYou plans to pursue further activities such as holding more social events where students can connect with others and continue to be informed on issues regarding body positivity.  Namely, one at Planet Smoothie. They have partnered with the National Body Positivity Organization and plan to allocate all proceeds to their cause. 
Other schools also have groups participating in this competition.. Alliance Innovation Academy is focusing on emotions while Northview High School is centering their project around academic anxiety. The competitors display their understanding of the topic and how well they reach the community, which will then be decided by the judges at SLC.
"I think depression and anxiety is something that's talked about a lot," Muppavarapu stated. "But feeling good about your body is given a sort of stigma, so I think it's important for our campaign to focus on that." 
The winner will be decided at SLC, which is held from March 2nd – March 4th. They are decided based on how well they understand the topic at hand and how well they show that understanding, along with the impact it has on the community and their peers.. Ultimately, LHS TrueToYou's goal is to help people feel connected to their peers and body. 
"There's other people out there to be there for you," Belda commented.
Donate to The Lambert Post
Your donation will help support The Lambert Post, Lambert High Schools student-run newspaper! Your contribution will allow us to purchase equipment and cover website hosting costs.