Sugar, Spice, and Everything Ice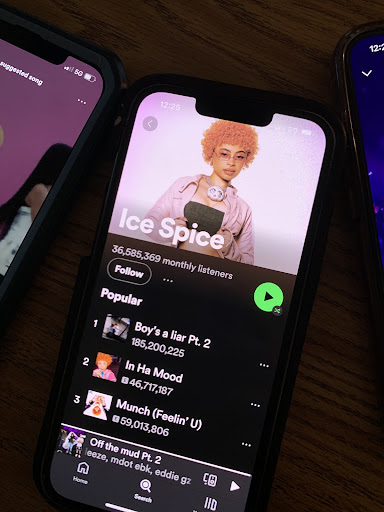 Chart-topping artist Ice Spice has become the rap genre's newest sweetheart. Behind her on stage persona is 23-year-old Isis Gaston, born on January 1, 2000 in Bronx, New York.
Spice, the oldest of 5 siblings, grew up in a divorced household and was primarily raised by her grandparents and extended family. Growing up, she felt the need to provide for and protect her siblings and understood that these needs could be satisfied by a rapping career.
Throughout grade school, Spice was captivated by Hip Hop artists Lil Kim, Nicki Minaj and Foxy Brown. Spice decided to take on the hobby of writing poetry and freestyle raps following in the footsteps of her father, a former underground rapper in the Bronx.
Despite receiving a full ride scholarship at State University of New York at Purchase for volleyball, Spice unenrolled from university to pursue her passion for music.
Ice Spice began releasing singles on SoundCloud in 2021, gaining traction in the local rap scene. In late August of 2022, the budding star had her first big break surrounding her single "Munch."
Catchy vernacular highlighted in the single caught the eyes of millions of TikTok users. Videos featuring the lyrics of "Munch" began to go viral.
 "'Munch' got Gen Z's attention; it became a joke and a trend," sophomore Sahara Prakash said.  "She basically created new slang, and she's changing the language of a generation with her music."
Spice's popularity soon skyrocketed as she was pushed into stardom. Fans fell in love with Spice's iconic bright-orange afro, her fashion sense and relaxed vibe. 
Many believed that Ice Spice would be a one hit wonder. Critics claimed her music not only lacked substance, but originality as well. Spice subsequently proved them wrong by releasing several songs in the months, securing her success. 
One of her most popular releases, "Bikini Bottom," is a callback to everyone's favorite Crabby Patty employee, Spongebob. Spice attributes the song's success to the nostalgic feeling it evokes for many young adults who grew up watching the show. Not only is the rap named after the series, it samples some of its soundtrack.  
Spice's popularity is not surprising as she has added something new to a classic genre. Staying true to her roots, Spice's music is centered around the rap subgenre Bronx Drill, an amalgamation of Chicago and UK Drill. 
What sets her apart from the rest is her perfect rap recipe with her main ingredients being nostalgia, sampling, soft adlibs and, most notably, rhetorical questions. 
"She's very relatable," sophomore Isabel Wang said. "For example, in her lyrics, she sings 'She a baddie, she know she a 10,' I just feel very empowered when I hear that."
Since her rise to fame, Spice has been interviewed by Genius, Apple Music, MTV, BET networks and Cosmopolitan. The new rap icon has no intention of slowing down her music production this year stating, "I'm going to have 10 songs, something like that," in an interview with Ebro Darden. 
Just as her name suggests, Ice has been spicing up the rap industry with her unique style and innovative singles. It's safe to say fans are on the edge of their seats waiting for Ice's next big project. 
Donate to The Lambert Post
Your donation will help support The Lambert Post, Lambert High Schools student-run newspaper! Your contribution will allow us to purchase equipment and cover website hosting costs.