The Diamond Challenge: a Demonstration of Lambert Pride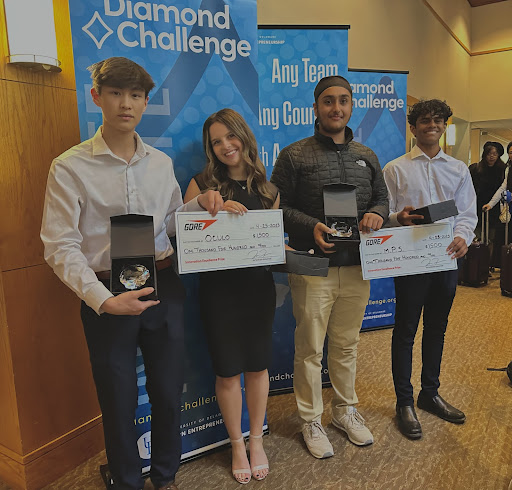 The Diamond Challenge is the world's largest entrepreneurship competition, and this year, Lambert advanced four teams to the selective 2023 Summit round hosted at The University of Delaware.. 
The Challenge consists of two rounds. In round one, any group of 3-4 high school students were encouraged to submit their innovation to The Diamond Challenge. They submitted  a video pitch as well as some supplemental material. "You can submit your innovation to one of two categories: either the social innovation category or the business innovation category," Lambert junior and Diamond Challenge participant Taylor Petrofski said. 
In the second round, The Diamond Challenge selected a limited number of groups to give their pitches at Summit. The innovations submitted can be anything from mobile applications, products and non-profit organizations. 
"My project was Occulo, and it is a diagnostic, ophthalmologic tool," Petrofski explained. "It is a lens that you put on the back of your phone camera, and it is designed to identify diseases in the retina."
The point of the product is to diagnose early, onstage diseases in the retina. It is targeted towards people in developing countries who unknowingly let their eye diseases progress often resulting in blindness.. Projects like Oculo are judged on a variety of criteria, such as how well you articulate your financials, your plan to enter the market, the look of your design, and how feasible it is. They also look at how far in the process you are, the creativity, enthusiasm, passion, credibility, and how many people you reached out to. Overall, judges also determine how your innovation compares to competitors and why it would be a better solution. 
The additional members that attended and competed ranged from all over the world, exposing Lambert teams to different cultures, ethnicities and experiences. Countries ranged from Hong Kong and Canada to states throughout the United States. 
During the Summit round, competitors have the opportunity to compete for a myriad of awards, including topical awards, which are given by the sponsors of The Diamond Challenge. However, only certain Summit participants are chosen to compete for these topical awards. Impressively, Lambert not only had two teams selected to compete for a topical award, but both teams won as well. Gore Innovation, a forward-thinking lab group, sponsored two $1,500 awards: one for business innovation and one for social innovation. "We won the GORE innovation excellence award, which is an award that is presented to teams that best represent the application of technology to improving lives." Petrofski mentioned. 
While Petrofski's team won for social innovation, Mannan Sigh and Nithin Reddy won Gore's prize for business innovation.  
The outcome of The 2023 Diamond Challenge is another notable accomplishment for Lambert High School. Georgia was the only state with more than one team competing from the same high school, let alone four. This environment hones and nurtures successful and ambitious students that make Lambert the high-achieving school it is.
Donate to The Lambert Post
Your donation will help support The Lambert Post, Lambert High Schools student-run newspaper! Your contribution will allow us to purchase equipment and cover website hosting costs.