The Journey Through College Applications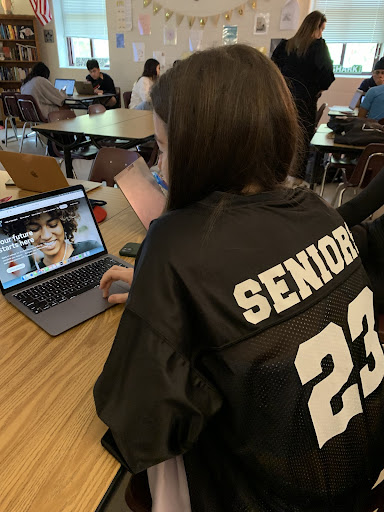 This fall, college applications opened up for seniors and due dates are arriving quickly. Seeing as this could be a stressful period for students, everyone is dealing with the situation differently and has their own methods of strategizing. 
Applications need to meticulously prepare their college applications, as every word on the form is a stepping stone for their future. Applicants need to begin their common apps and "brag sheet" in August, but some seniors find themselves in either extreme: preparing in advance or falling behind, which makes the process even more stressful.
"It's a lot of editing and fixing up old drafts," Ritvik Ganta, a senior at Lambert said. "It's introspection – seeing what makes you, you." 
Based on self conducted polls, the number of colleges each applicant applied to varied from six to thirteen. With each application that is sent out, seniors have to find a way to differ themselves from the thousands of other applicants and market themselves to whichever school they aspire to attend.
When applying to colleges  it is not always about being the best, or most academically successful. Being accepted into a college is determined by how well an individual matches with that school.
"They're not looking for the best, they're looking for a perfect fit for the college," Laavanya Gandham mentioned.
With all of these factors that contribute towards a student's future, one thing that all seniors seemed to have in common when asked what they would change was to start earlier. 
"Start in the summer or as early as possible," Lillian Paul advised. 
Requesting teacher recommendations, creating a brag sheet and having carefully curated essays are all feats that can be made much easier with better time management and planning.
Donate to The Lambert Post
Your donation will help support The Lambert Post, Lambert High Schools student-run newspaper! Your contribution will allow us to purchase equipment and cover website hosting costs.