Stäge: A Must-Try Spot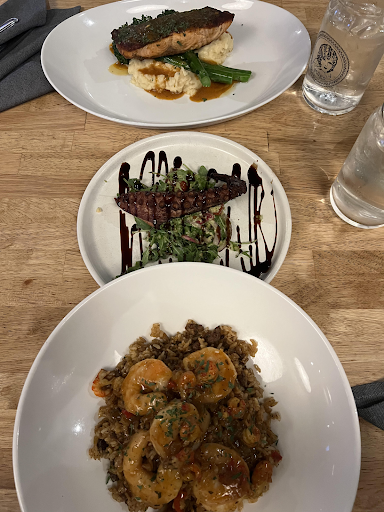 Stäge Kitchen & Bar is a fantastic restaurant that offers a unique dining experience. The atmosphere is upscale and modern with dim lighting and a cozy ambiance. The decor is sleek and sophisticated, with a mix of industrial and rustic elements that give the restaurant a warm and inviting feel. The space is perfect for a special occasion or a night out with friends.
The menu is diverse with a mix of classic and contemporary dishes that are expertly prepared and beautifully presented. The restaurant prides itself on using locally-sourced and seasonal ingredients, giving the menu a fresh and authentic feel. The menu is constantly evolving, and the chefs frequently introduce new and creative dishes that keep the dining experience exciting and interesting.
The service is outstanding. The staff are always willing to make recommendations or answer any questions about the menu. They are knowledgeable about the ingredients and preparation methods of the dishes, providing helpful insight into how the flavors will complement each other. The restaurant also offers a wide selection of wine, beer and cocktails.
The appetizer I ordered was particularly noteworthy. I ordered the octopus leg which was a great way to start the meal. The tender leg paired with a salad drizzled with balsamic vinegar dressing was slightly acidic, creating a unique flavor.
For entrees, the seafood options were excellent. I ordered the blackened salmon and shrimp etouffee. The salmon was cooked to perfection and melted instantly in my mouth. Additionally, the asparagus that came with the salmon was fresh and flavorful. The shrimp etouffee was hardy. The shrimp had a satisfying snap when biting into them and when coupled with the dirty rice, it was mouthwatering. The restaurant offers a range of cooking styles, from traditional grilling to more experimental methods, and the chefs are able to accommodate any dietary restrictions or preferences. 
Overall, Stäge Kitchen & Bar is a fantastic restaurant that offers a great dining experience. The food is delicious, the service is excellent and the atmosphere is perfect for a special occasion or a night out with friends. The restaurant offers a range of price points, making it accessible for everyone. I highly recommend it for anyone looking for a memorable dining experience.
Donate to The Lambert Post
Your donation will help support The Lambert Post, Lambert High Schools student-run newspaper! Your contribution will allow us to purchase equipment and cover website hosting costs.