Teaching: An Underpaid Profession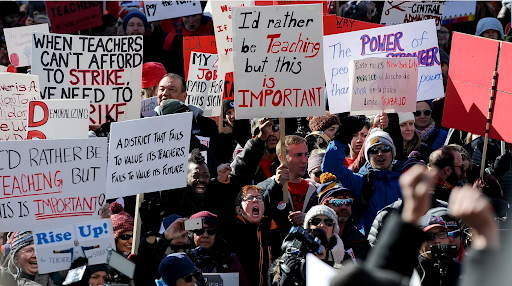 As students, we are set in a routine. We wake up, get ready, go class to class, take notes and then go home. More than often, students are so set in their routine, they forget that teachers have their own routine as well which involves educating and inspiring the next generation. More impressively, teachers continue to support students in their careers and education, while not getting paid as much as they deserve. So why aren't teachers paid more?
Forsyth County would not be where it is today without the impact of its quality teachers, and this goes for our nation as a whole. Many families buy homes in Forsyth County for its highly-ranked schools. This quality of schooling is primarily a result of the efforts and dedication of teachers to produce such a highly-ranked learning environment. Despite this, teachers are still massively underpaid. In other parts of Georgia and the nation, teachers are paid even less than what Forsyth County teachers make. This is a blatant discrepancy and act of disrespect towards teachers who work hard to make their students and school succeed.
During 2018 and 2019, strikes led by teachers in the United States heightened the profile of declining teacher compensation as a key public policy issue. 
"Teachers don't make a lot of money,"  Lambert AP United States History Ms. Smirnov said."How much do we value public education as a whole? And [public education] has become politicized recently."
Teachers and parents have been protesting cuts to school investment and teacher compensation for years. These budget cuts were not the result of a weak state's economy. Many were instead approved by state legislators to provide tax breaks for the wealthy and corporations. This begs the question, are the wealthy more important than the children of this nation?

Teachers hold the world together; without them, no successful career of any kind would exist. Educators everywhere teach children how to succeed, be responsible and be respectful. Many people take teachers for granted, but they are the reason that individuals can read, write and reach their goals. The job requires constant adaptation in teaching methods (ie. online learning) and a heavy workload with often more than hundreds of papers to grade at once.
Instead of paying teachers a salary they deserve, the nation severely underpays them and leaves them to buy their own educational materials.
"[Teachers] do a lot, and I just don't think we see all of it," Lambert junior Ananya Suresh said."During COVID, it was amazing how my teachers were dealing with all the emails and organizing all the lesson plans."
In the 2015-16 school year, 18% of teachers in the United States worked a second job outside of the school system. Teachers are almost 30% more likely than non-teachers to work a second job, and in some states, one-quarter of teachers do so. After the COVID-19 pandemic combined with economic inflation, it is predicted that more teachers will have to work two or three jobs in order to support their families and themselves. 
At Lambert, students seem to thrive in everything they participate in and this is undoubtedly due to the teachers who constantly encourage students to reach their goals. Many claim that this success will only be heightened by higher pay for teachers as they will work harder to maintain their job. 
Not to mention, increasing extrinsic motivation can facilitate intrinsic ideals and draw in young adults who also want to educate others. This will help end Georgia's massive teacher shortage which is very much present in Lambert High School, as some classrooms are crammed with up to 35 students in a single classroom
According to The Edvocate, when instructors receive greater pay, students perform better. Based on one study, student achievement would rise by 5–10% for every 10% increase in teacher pay just due to the increase in motivation and affordability for more resources that teachers may have in response to higher pay. 
"The expectations are already pretty high, but there would be higher expectations and a higher caliber teacher," Smirnov said.
Donate to The Lambert Post
Your donation will help support The Lambert Post, Lambert High Schools student-run newspaper! Your contribution will allow us to purchase equipment and cover website hosting costs.