Why Better Call Saul Should've Won an Emmy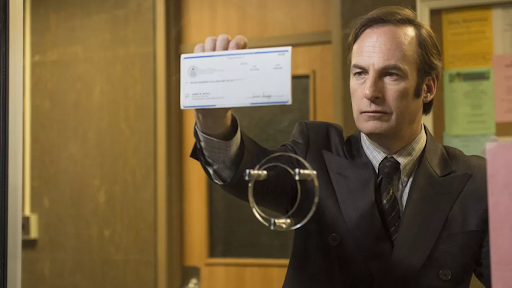 Each year, the Television Academy hosts the Emmys, an award show meant to recognize the best of television. At last month's Emmy Awards, many great productions were recognized for their television achievements. "Ted Lasso" won "Outstanding Comedy Series" and "Squid Game's" Lee Jung-Jae won "Lead Actor in a Drama Series" However, there was one thoroughly deserving show that left empty-handed, leaving its legion of fans disappointed. Once again, "Breaking Bad's" brilliant spin-off "Better Call Saul" did not receive an award.
"Better Call Saul" is highly-rated with 46 Emmy nominations, but has yet to win a category. The show's trajectory follows a similar pattern each year: receiving multiple nominations, receiving a promising fan reaction, but walking away empty-handed. 
Currently, the show scores a 98% on the Tomatometer and is ranked by Rolling Stone as the 32nd greatest show of all time. There's no shortage of critical acclaim for the cousin of the untouchable classic that is "Breaking Bad". So what caused this lack of acclaim from the Emmys? How come Breaking Bad won 16 awards and its equally impressive prequel won none?
Well, one theory suggests that, in the eyes of the Academy, "Better Call Saul" is inferior to "Breaking Bad". During the show, we see a mild-mannered chemistry teacher by the name of Walter White transform into a brutal drug kingpin. Along the way, he is helped by a quirky, eccentric lawyer named Saul Goodman. "Better Call Saul" serves as a prequel to the events of "Breaking Bad", filling in gaps and unanswered questions . But the thing is, many thought the "Breaking Bad" prequel was unnecessary.
Saul Goodman was a side character in the original show. A spin-off seemed to many like a soulless cash-grab that would tarnish the completed story of the original. 
Through careful planning and impressive writing, these predictions were proved incorrect. Most people who've seen the show would agree that it turned out to be just as good and in some places, even better than "Breaking Bad". Unfortunately, though, people still assume that it's not as good just because it's a prequel..
Lambert senior Akshur Raghuram theorizes that this discrepancy in critic reviews and Emmy nominations is a result of the award show scoring.
 "You have to remember that the Emmys go off a single episode for almost all the awards, acting included," Raghuram said. 
"Better Call Saul" is a show that has a slow buildup followed by satisfying twists, and it's possible that this nature of writing fell short when it came to judging.
Both "Better Call Saul" and "Succession" were nominated for outstanding drama series. Akshur argues that, while "Better Call Saul" had better drama in its final season, the buildup might have been lacking when compared to the intense nature of "Succession".
The academy should focus on the entirety of a show instead of a singular episode. The reason drama shows work so well is that they develop a complex story through over many episodes. Judging using only one episode is a disservice to the show and its fans. 
Still, fans are hopeful that next year will fare better. AMC released the sixth and final season of "Better Call Saul" in two parts with an interlude in between. This means that while the first half of season six was eligible for this year's Emmys, the second half will only count towards next year. 
In other words, next year's awards are when the conclusion of the show will be judged instead of the build-up. The television academy might finally recognize "Better Call Saul" upon witnessing its true conclusion. 
As of now, the lack of wins is  devastating to the people who have been supporting the show since day one. It's a shame that the brilliant writing of the first five seasons won't be recognized. Despite its Emmy results, "Better Than Saul" is a commercial and critical success. It's prevalent in popular culture just as Breaking Bad once was. Hopefully, the academy will do its due diligence next year and award the creators behind "Better Call Saul."
Donate to The Lambert Post
Your donation will help support The Lambert Post, Lambert High Schools student-run newspaper! Your contribution will allow us to purchase equipment and cover website hosting costs.