A Love for Fencing: James League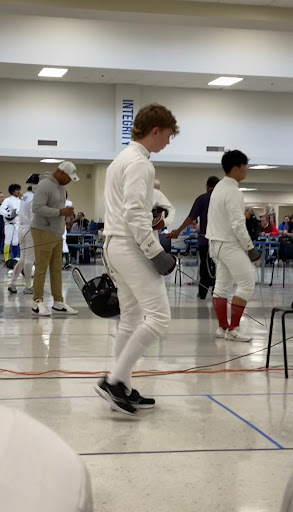 Lambert High School junior James League is quickly becoming a fencing star. James has been working hard to hone his fencing talent. 
James views fencing as a "way of life" rather than merely a sport. He invested many hours of his life training and refining his technique, always looking to get better and challenging himself.
"I am not sure how I found the sport," James said. "I would say I need to definitely work on my cardio, it is the weakest point of my fencing resume. But, I can confidently say that my accuracy with my foil is better than most of my opponents."
James has been a major factor to the team's recent success. On March 11, James dominated his opponents at a recent mock fencing tournament, winning both of his matches. His performance was nothing short of astounding. 
His first win at the mock fencing tournament showed his diligence and dedication. He faced a strong opponent, yet James maintained his composure throughout the match. He won the match with the score of 15-8 after rapidly taking the lead.
James faced a distinctive fencer for his second bout. According to James, in his match, his opponent relied more on "speed and agility" rather than brute strength. Nonetheless, James was up for the duel and changed his game plan to match his opponent's style. He recalls moving more "forcefully," getting numerous fast blows that made even his quick opponent keep up. In the end, James won the match with a score of 15-6 remaining undefeated for the tournament. 
James has big dreams for his career in fencing despite his youth. He already has his eyes on college fencing and aspires to become a renowned fencer someday. It is obvious that he has the talent and motivation to turn his ambitions into reality based on his successes at recent mock fencing competitions.
Most importantly, though, he realizes the value of camaraderie in fencing. He has formed strong connections with his fellow Lambert fencers and noticed the significance of working together to accomplish the common goal of winning. He has established himself as a leader among his teammates and a valued member of Lambert's team. 
"I love winning," James remarked. "I think that competition brings out…the best of me. Winning for Lambert and spending time with my team is what I really enjoy."
James League is an exceptional student at Lambert High school and true standout fencing of Lambert Varsity Fencing. Without a doubt as he matures, he will go on to accomplish great things in the world of competitive fencing and beyond.
Donate to The Lambert Post
Your donation will help support The Lambert Post, Lambert High Schools student-run newspaper! Your contribution will allow us to purchase equipment and cover website hosting costs.