Creating Community Through Music: The Lambert Drum Line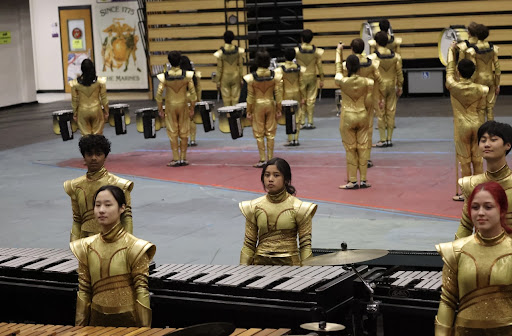 The Lambert Drumline is a microcosm of community. Hard work, talent and skill all live in the Lambert Drum line but what sets them apart is the friendships and growth that occur throughout the drum line season.
Freshmen percussionist Elise Deladisma and guitarist, Krish Iyer, both participate in the drumline. For Iyer and Deladisma, the one thing they love about the drumline is the feeling of all their hard work and practice all coming together.
"All the hard work and the amount of time we spend with each other, it just creates an environment that's very amazing," Deladisma said. "It's creating music together. It's one of the coolest things."
Much of Lambert Drum Line's appeal is that anyone can do it. Any musically inclined person from any grade can join and have a place in the ensemble. 
The drumline isn't just percussion instruments as one may believe. The Lambert Drum Line brings together facets of every type of ensemble, from color guard, percussion and wind instruments.
This variety also means that many people in the drum ;ine get to have a larger role than they usually would in band, chorus or other musical avenues. Multiple instruments have soloist parts, blending an ensemble with multiple individual sounds into an amazing show.
This variety also translates into the people and relationships that are fostered during this 6-month season.
"And being in the drumline, you get to know people in different grades," Iyer said. "I have new friends now, and we go out sometimes after rehearsals and it's just fun."
While hard work and dedication are a facet of the drumline, those participating are full of budding talent.
The drum line won first twice and third once in their previous competitions and are currently working to become ranked internationally. 
"When we show up, they know we're Lambert," Deladisma said. "That's the kind of feeling we're trying to get."
Donate to The Lambert Post
Your donation will help support The Lambert Post, Lambert High Schools student-run newspaper! Your contribution will allow us to purchase equipment and cover website hosting costs.