Everything We Know About The Upcoming Barbie Movie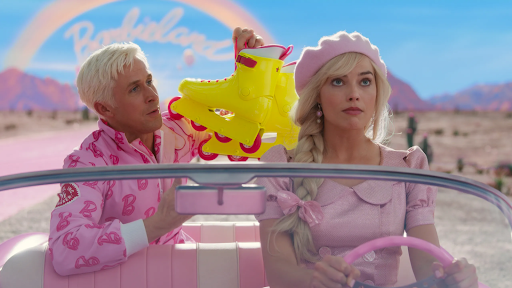 On July 23rd, Warner Bros has set to release "The Barbie Movie". Featuring Margot Robbie and Ryan Gosling, the movie focuses on the retro aspects of a personified Barbie World. However, trailers and teasers have remained elusive, allowing for the public to speculate their own ideas of what the Barbie movie plot will turn out to be. 
The original Barbie franchise was established in the 1900s, serving as a role model for young girls through the merchandising of toy sets and dolls. With over 200 careers, ranging from an actress to a pediatrician, Barbie inspired girls could be anything that they want to be. 
Resonating with a factor of nostalgia, the movie seems to appeal to a demographic of teens and millennials. While the rating of the show has not been released yet, many speculate it to be PG-13. 
"I am such a fan of Barbie," Lambert senior Sam Yeleti said. "I grew up on the Barbie movies. I remember watching them when I was little and loved them so I'm super super excited."
Many have shown excitement for the adaptation. Barbie movies in the past by Mattel have typically been animated. Classics like the Princess and the Pauper, Rapunzel and Thumbelina were retold through the animated retelling of Barbie Movies.
"When I was a kid it was called 'Island Princess'," Same Yeleti said. "They [the movies] came out at the right time. I remember that one that came out at the right time, when I was probably six or seven and just  just hit the spot"
A common trend has also been made where the movie poster takes a picture of one of the Barbie characters and quotes "This is [Their name]." Social media has circulated the poster around captioning it to fit their own characteristics. 
Characters such as Allan and Midge, other retro dolls that released alongside barbie, will also be featured in Barbieland, with a plethora of different types of Barbies and Kens. Some, however, remarked on their dissatisfaction on the exclusion of other iconic characters such as Raquelle and Ryan. 
"I think it's definitely a decision that was made and not that they accidentally forgot or something," Sam Yeleti said. "They definitely can't forget Raquelle, she is iconic."
Despite the unpopular stigma surrounding live actions, many look forward to the Barbie Movie and have high hopes for their childhood to be reinvented upon the big screen.  
Donate to The Lambert Post
Your donation will help support The Lambert Post, Lambert High Schools student-run newspaper! Your contribution will allow us to purchase equipment and cover website hosting costs.