Frank Ocean's Comeback Made a Splash, But there's Rough Waters Ahead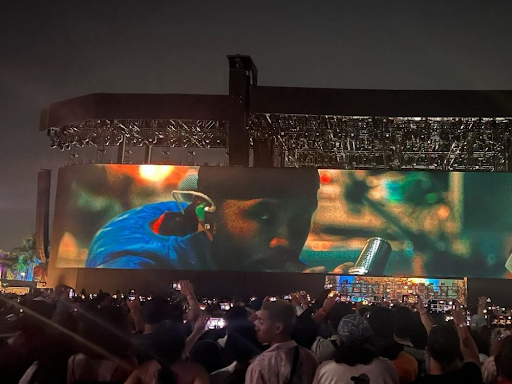 Frank Ocean's music career has been nothing short of a rollercoaster. In 2012, Frank Ocean, new to the music scene as a ghostwriter, released his first studio album, "Channel Orange." Instantly, it was a hit, putting Frank Ocean on the map and launching his career as a solo artist. Praised for its fresh approach to R&B and Pop elements, it went on to win a Grammy award for Best Urban Contemporary album as well as a nomination for Album of The Year. The success of his first studio album propelled him to stardom, cementing his place among the music of the 2010s.  
Thus, expectations were high when Frank Ocean released his second studio album, "Blonde," in 2016. Once again and as expected, Frank Ocean delivered. "Blonde" expanded on Frank Ocean's innovative style and went on to top the Billboard 200. Achieving a perfect record for music releases, it seemed Ocean's popularity and dominance of the music industry would only grow.
However, after 2017, fans were left with radio silence from Frank Ocean. Apart from a few sporadic singles and work as a photographer, there was little to be heard of Frank Ocean. Following a few concerts in 2017, his public appearances also decreased. As time went on without a major music release, some fans even speculated Ocean's departure from the music industry. 
So when it was revealed that Frank Ocean would headline the Coachella concert this year, many fans were expecting a comeback. It would be his first live performance in nearly 5 years and at one of the biggest music events in the world. Fans were ready and waiting to see a beloved artist back in the limelight, performing his impressive catalog of pop hits. 
What happened instead was a performance surrounded by controversy that left many attendees disappointed. For starters, Frank Ocean's concert wasn't streamed on YouTube, unlike the rest of Coachella, meaning fans who couldn't attend in person weren't given the same experience as they were with other artists. Timing was also an issue for the performance. Not only did it start an hour late, but the performance also ended abruptly with Frank Ocean simply announcing, "I'm being told it's curfew." Fans also complained about the visuals of the concert. Throughout most of the songs, Frank was hard to see clearly, if not completely absent from the stage. 
It became clear that, unless you were sitting in a front couple of rows, you didn't get to experience the visual presentation of the show or artist. In a crowd as big as Coachella, this meant the majority of people were blind to the performance.
Even after the abrupt ending of the concert, fans were left with more bad news a few days later when Frank Ocean announced that he would completely pull out of the second weekend at Coachella, citing an ankle injury he suffered earlier that week. 
The performance at Coachella fell short, yet some in Ocean's fanbase maintain hope for a comeback. A new performance, despite its shortcomings, signals the artist's willingness to be back in the public light. Despite canceling the second weekend at Coachella, fans believe that Ocean can maintain the momentum from his return to the big stage. 
"I'm disappointed since I really wanted to see him perform again, but he's a great singer and I trust that he'll release new music soon," Frank Ocean fan and Lambert junior Armaan Bhasin said.
Among those sharing this sentiment was fellow artist Justin Bieber, who reportedly attended the concert and went as far as to say that, "His artistry is simply unmatched, his style, his taste, his voice, his attention to detail… I was deeply moved." 
Among diehard fans, Frank Ocean was and still is a visionary, with this concert simply being a one-off blunder. While it's unclear whether he'll be able to regain support among those disappointed by the Coachella performance, longtime fans are excited to nevertheless see him back. It's not uncommon for artists to have a few bumps in their career, but with the previously impeccable record of Frank Ocean, there's hope that he may return to the music scene.
Donate to The Lambert Post
Your donation will help support The Lambert Post, Lambert High Schools student-run newspaper! Your contribution will allow us to purchase equipment and cover website hosting costs.