From Page to Stage: Darcey Reid's rendition of Daisy Buchanan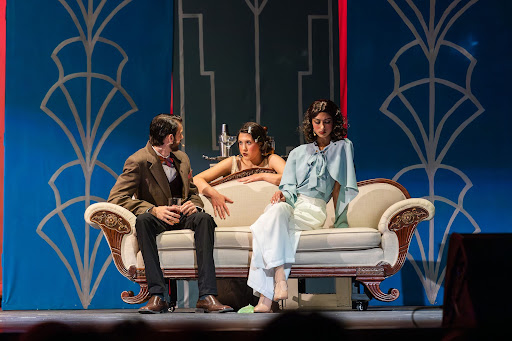 This past weekend junior Darcey Reid breathed life into literature with her role of Daisy Buchanan in the play adaptation of the Classic American novel, The Great Gatsby. 
Darcey Reid has been involved in the acting community since third grade with extensive practice and study at CYT Atlanta. Her experience there laid a strong foundation for her later involvement with the Acting Troupe of Lambert.
Darcey participated in a plethora of plays and drama events. She typically is part of a musical theater ensemble, citing singing as not being her forte.
"When it comes to musicals, I prefer being in the ensemble since singing isn't my forte." 
Darcey revealed that when the Spring play title was first announced to drama students in the early fall she was intrigued and eager to audition. 
"Because 'Gatsby' is a play, I knew I had a stronger chance of getting a speaking role," Darcey said.  
Her interest in the play skyrocketed when her AP Language Arts class began reading and watching the Great Gatsby.
To prepare for the role Darcey focused in class and avoided reading the script in fear that too much practice would hinder her authenticity. 
Auditions consisted of all actors reading multiple character's lines; Darcey read for Jordan Baker and Daisy Buchanan.
After dozens auditioned Darcey was casted as Daisy and was excited to achieve her dream of playing a lead role in an acting play.
"I'm finally able to really show a character to the audience more than musicals with the big dance numbers," she said.
 As she prepared for her role as Daisy, Darcey faced the challenge of memorizing over 70 lines and embodying her character while the troupe was focused on the Spring competition show, "The Secret Garden." 
She practiced blocking in class, the art of running through blocks of lines with other actors until you know when, and where, and to whom you say your lines to. 
With limited rehearsal time for "The Great Gatsby," Darcey had to rely on her own methods to effectively prepare.
  "I've made my lines into Quizlet flashcards so that I can review them anytime. I wanted it to be where, even if I'm distracted or doing nothing with my eyes closed, if I hear the line before me, I know what comes next."
 From reading the book in class, to watching the movie, building her own version of Daisy was an interesting path of discovery for Reid. 
"She's very complicated, very back and forth," Reid shared about her interpretation of Daisy. "Sometimes I just go, 'Why did she say this?'Her choice of words is very different so you need a certain style of acting to portray it."  
Darcey explained that she was confused by Daisy and could not relate to her. She admired the character Jordan Baker, a strong revolutionary who broke stereotypes; a foil to Daisy. 
After immersing herself in all things Gatsby, Darcey grew to understand Daisy and how she wanted to portray her character. 
"With reading the book and watching the movie… it helped me find a baseline of what my character's attributes are," Darcey said.
Throughout practice she was able to perfect her craft, while learning the importance of teamwork and furthering her friendships with her costars.
Darcey enjoyed performing and left the audience with a newfound appreciation for the classic story. We hope to see more of Darcey and all actors of The Lambert Acting Troupe who put on a spectacular performance time and time again.
Donate to The Lambert Post
Your donation will help support The Lambert Post, Lambert High Schools student-run newspaper! Your contribution will allow us to purchase equipment and cover website hosting costs.