Harry's House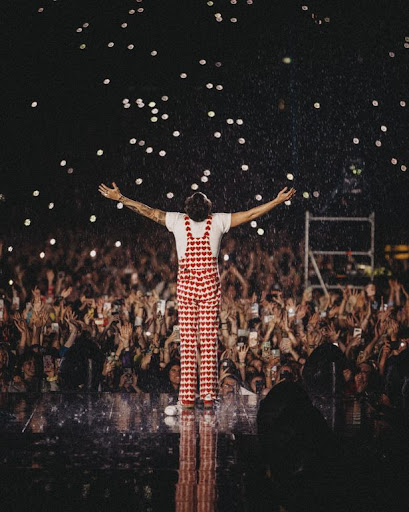 From auditioning on X-Factor to breaking records at Madison Square Garden, Harry Styles has made it abundantly clear that he has matured as an artist. He's worn a dress on the cover of a magazine and starred in major motion pictures and headlined Madison Square Garden for 15 consecutive nights, just this year. Styles' newest album, "Harry's House" and his "Love on Tour" concerts makes everyone feel at home through a variety of songs and ecstatic performances. The album brings together a diverse group of fans who not only share love for Styles' album, but who are immersed in the feeling of comfort and inclusivity through relatable lyrics and melodies.
Harry's House is his most sonically diverse release, drawing fans deeper into his musical universe with captivating production and liberated vocals.
Several songs on Harry's House, hint that he is in love. Within the first minute of the album's first track, "Music For a Sushi Restaurant," he declares, "It's cause I love you babe/ In every kind of way," and in many different songs on the album, he follows this sentiment. He follows this theme till the end of the 13-track masterpiece with the closing lyric "Baby, you were the love of my life" that the audience recites back to him at his concerts. This creates a common love for Styles' and acts as a unifying force throughout the arena, making fans feel like family. It links the fans with Harry as they share a night full of insane dance moves, singing at the top of their lungs, and experiencing an unforgettable night.
The melancholy ballad, "Boyfriends," acknowledges men's flaws in relationships, from taking their partner for granted to playing games making this feeling very relatable for a variety of females who have been wronged by boyfriends or fathers in their lives.
Teary-eyed songs, like Little Freak and Matilda leave the fans in tears as they recite the lyrics back to Styles. In the poignant "Matilda," he shows empathy for a character from a troubled family when he says, "You don't have to be sorry for leaving and growing up," while Styles' close friend and guitarist Mitch Roawland plays a beautifully imperfect melody. This song demonstrates that he empathizes with anyone who is mistreated. Many fans who are a part of minorities like the LGBTQ community and those who have been mistreated, highly relate to this song as they feel understood and supported. 
Many listeners at Lambert High School say that the album is an escape for students whether it be from their heavy school load, conflicts at home, or issues with their own self- esteem.
"I just put my airpods in and it makes me feel like everything will actually be alright." Lambert junior Kajel Damani said, quoting a lyric from Harry Styles' first album. 
If you've ever seen Styles perform live, you know he's doing what he loves. His shows are electrifying.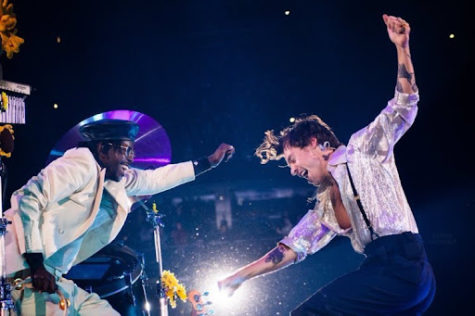 Harry Styles has opened almost every residency show on tour this year by evoking feelings of freedom and individuality within his fans.
"If you want to sing, if you want to dance, please feel free to do whatever it is you want to do." Styles says, "Please feel free to be whoever it is you want to be and I challenge you all to have as much fun as I'm going to have."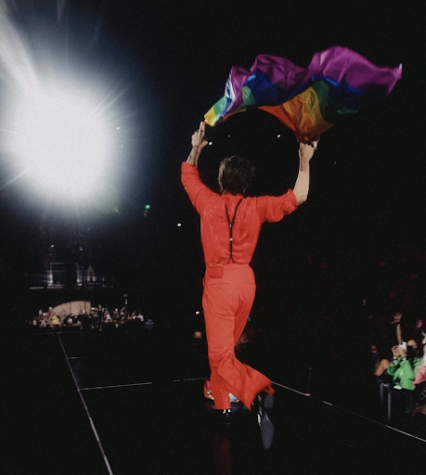 Styles' songs in Harry's House bring heavy themes of fun, inclusivity, and love through a nostalgic tone of the 70s & 80s, even making fans certain that it will be nominated for a Grammy in the upcoming year.
His concerts consist of thousands of boas and fans dancing like nobody's watching. This engaging and welcoming atmosphere is even spoken for by Lambert students who attended Love on Tour.
"It's the most freeing and safe feeling in the world," Damani said. "There really is nothing else like it."
Donate to The Lambert Post
Your donation will help support The Lambert Post, Lambert High Schools student-run newspaper! Your contribution will allow us to purchase equipment and cover website hosting costs.