Humans of Lambert: Shirin Sathe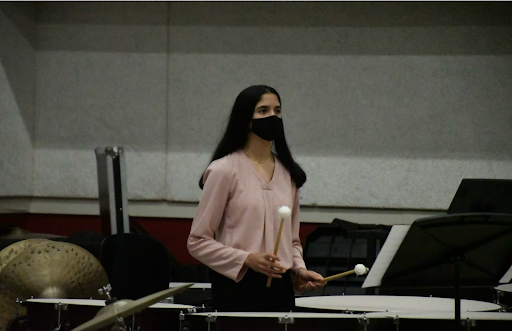 Music is a vital part of many people's lives, allowing them to connect to a group of people or learn about themselves. For Lambert junior Shirin Sathe, music is her entire life, spending hours on end composing and learning different songs.
As a child, Shirin would practice daily in front of the piano, learning the ins-and-outs of the instrument. Shirin's family rallied around her, supporting her new found talent and encouraging her to pursue it further.
Through her love for piano, Shirin decided to take a large step forward towards furthering her talent and joined her school's band program. Taking up percussion in the 6th grade, Shirin learned once again what it meant to be a musician. 
Since joining high school, Shirin has taken up the xylophone as a part of Lambert's indoor drumline, spending up to five hours everyday every week practicing her instruments. 
"There are three hour rehearsals after school," Shirin said. "I do an hour during school and then an hour of piano when I get home."
As more competitions are coming up, Shirin is dedicated to mastering her music. As she learns harder songs every time, Shirin's ability to help score high in competitions has not gone unnoticed. 
Shirin is now looking to attend Vanderbilt University in Tennessee as it ranks in the top 5% in the country for their musical programs. 
"I'm either going to double major or minor in music," Shirin said. "The hope is to get into Vanderbilt."
Music is a cornerstone of Shirin's life and she cannot imagine living without it, spending hours on end training her ear to find the perfect piece. Her mastery of the art is sure to impact the lives of many.
Donate to The Lambert Post
Your donation will help support The Lambert Post, Lambert High Schools student-run newspaper! Your contribution will allow us to purchase equipment and cover website hosting costs.