Lambert Tennis Poised for Another Strong Season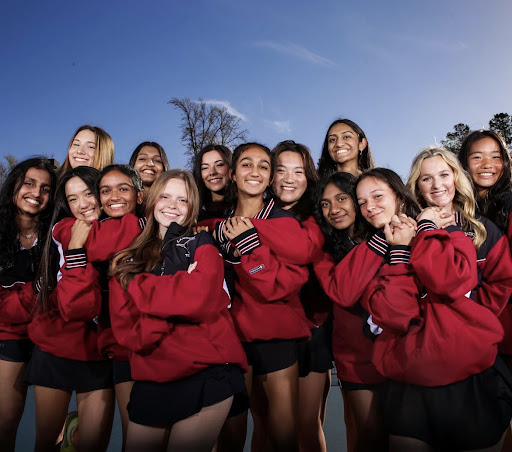 Lambert's girls varsity tennis team has been performing exceptionally well this season, maintaining an impressive streak that has established themselves as one of the top teams in the state. 
Junior player Mara Opre has been thrilled with the team's performance thus far.
"We've actually had a pretty good season so far, we've won the majority of our matches," Opre said. 
In one of their most recent matches against South Forsyth, the Longhorns emerged victorious in a close-fought matchup that ended 3-2. The doubles match was the deciding factor with Sophia Zhao and Angela Golban's impressive performance securing the win. It was a pivotal moment that was celebrated by the team.
This season has seen Mara expand her skill set; transitioning from being solely a singles player to now playing both singles and doubles, a move that she's thoroughly enjoying.
"When I'm playing doubles, I like that I have someone else on the court with me," Opre explained. 
The team boasts an impressive roster, including junior Emily Baek who has committed to playing Division 1 tennis at Columbia University. The team is tight-knit and incredibly proud of their achievements.
"I would say our greatest strength is that everybody roots for everybody else," Coach Pate stated.
Coach Pate, who was named teacher of the year for this school year, brings a wealth of experience and empathy to his coaching, as Mara attested.
"When we're in stressful situations, he knows how to calm us down," she said.
Pate played tennis throughout high school and college, and his own experiences as a player have undoubtedly influenced his coaching style.
"I looked back in my life and realized a lot of people that had the biggest influence on me were my coaches, and I wanted to try to emulate that in a small way," Pate said. 
Mara's passion for tennis runs deep, with her father serving as a coach and mentor to her from an early age. She dedicates herself to the sport year-round and is constantly looking for ways to improve her game.
"After every match, I write down notes about what I could've done better and what my opponent did better than me," she said. "Then I'll talk with my dad about it and we'll set up some drills and practice to improve those shots."
With such talent, dedication and support, it's clear that the girls tennis team is destined for great things. They have their sights set on winning the region championship and advancing to the state championship, and if their season so far is any indication, they have a great chance of making that dream a reality. Lambert students can look forward to watching their team achieve great things throughout the remainder of the season.
Donate to The Lambert Post
Your donation will help support The Lambert Post, Lambert High Schools student-run newspaper! Your contribution will allow us to purchase equipment and cover website hosting costs.