Basketball: The Best Sport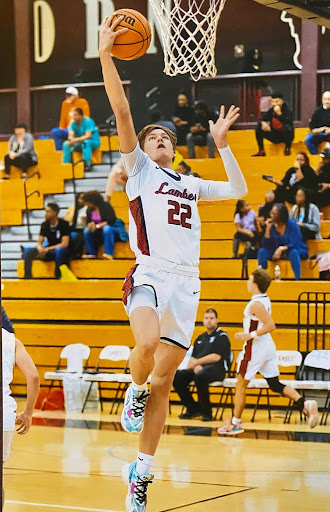 Determining the best sport is a subjective matter as different people have different preferences and interests. However, there are many arguments to be made for why basketball is the best sport.
Basketball is a fast-paced, dynamic sport that combines physical athleticism with strategic thinking. It requires a unique combination of speed, strength, agility and finesse, making it a challenging and rewarding sport to play or watch. Moreover, basketball has a universal appeal with millions of fans around the world following the sport and its top players.
One of the reasons why basketball is the best sport is its accessibility. Unlike some sports that require expensive equipment or large playing fields, basketball can be played with just a ball and a hoop. Additionally, basketball courts can be found in many public parks and recreation centers.
Raj Patel a senior at Lambert High is a local high schooler who loves to play basketball.
"I love hooping at the rec-center near Lambert…me and my other friends love playing basketball for a few hours," Patel said.
Another reason why basketball is the best sport is its impact on popular culture. Basketball has a rich history and tradition. Many legendary players have become household names, such as Michael Jordan, Kobe Bryant and LeBron James. These players have inspired millions of people around the world to pick up the sport and strive for excellence, making basketball a source of inspiration and motivation for many.
Furthermore, basketball is a sport that promotes teamwork and camaraderie. It is a sport that requires players to work together, share the ball and support each other, making it a great way to build strong relationships and foster a sense of community.
There are many other sports that also have their own unique merits and advantages, such as soccer, American football, tennis and many more. However, I believe that basketball stands out as the best sport due to its universal appeal, accessibility and impact on popular culture.
Basketball, especially at Lambert High, has united all the students. With the recent win over South Forsyth (79-49), many of the students gathered to watch this amazing game. It was an exciting game with the ball going back and forth between the two teams.
Jack Whipple, a member of the Lambert Boys Basketball team, was on the court playing against South Forsyth. Whipple highlights why basketball evokes competitive nature in athletes.
"It's always exciting playing against South Forsyth. Not only is it an important region game, but also because of the die hard rivalry. While it's always a heated game, we play without emotions and take care of business," Whipple said.
While the best sport is a matter of personal preference, I believe that basketball stands out as the best sport due to its combination of physical athleticism, strategic thinking and universal appeal. Whether playing or watching, basketball is a sport that offers excitement, challenge and inspiration.
Donate to The Lambert Post
Your donation will help support The Lambert Post, Lambert High Schools student-run newspaper! Your contribution will allow us to purchase equipment and cover website hosting costs.