Lambert Lacrosse Today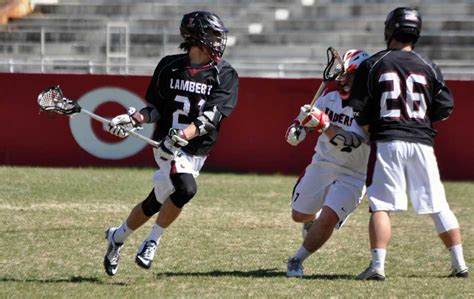 The boys and girls lacrosse had both played 8 games during the last update. Since then the boys and girls have battled in 6 more games as the season is winding down. The boys lacrosse sit at an impressive 14-0, meanwhile, the girls have had trouble finding success sitting at 5-9.
         The boys have continued their domination over opponents as they have been winning by an average margin of 5.9 goals per game. Their first game since March 22 was against Chattahoochee, where they won easily 14-3. The next game was against Johns Creek. Lambert destroyed them 15-3. The next game at Milton was not as high scoring for the boys but they still won by a wide margin of 12-1. The next game was against Westminster and the Longhorns came out on top 14-4. Lambert played region opponent Forsyth Central next and they completely dismantled them 19-3. The most recent game was a match-up against Cambridge and the boys won this game by a score of 15-1. The last three games of the season are against South Forsyth, Lovett, and West Forsyth. The guys will hope to finish out the season on a high note. Senior Bryce Segat had this to say, "I think we have a fantastic team with some great coaches with the chance to win it all as long as we keep our momentum,"
           The girls lacrosse team has been on a downward trend, sadly, since our last update. At that time the team was 4-4 and the season was either going to go in the right way or it would just be a downfall. The lady Longhorns went on a brutal five game losing streak that started with a loss at West Forsyth 18-7. In the next game they competed until the end but lost 15-14. The girls went on to lose to Weddington, 19-6, Starr's Mill, 15-5, and then Roswell, 19-5. The ladies did break their slump by beating up on Kennesaw Mountain by a score of 12-8. The season is far from over, however, it does not see, that they have much to play for other than their pride. They finish out the season against South Forsyth, Alpharetta, and Milton. These last three are against better teams, but the lady Longhorns could ruin a teams momentum if they win. They ladies will look to finish out the season strong and gain experiences for the future seniors and juniors.
         Two teams with the same goal coming into the year will finish on two very different paths, but the fact that both teams worked with maximum effort and tried their hardest cannot be disputed as we wish the best to both programs in the coming weeks.