Construction Craze at Lambert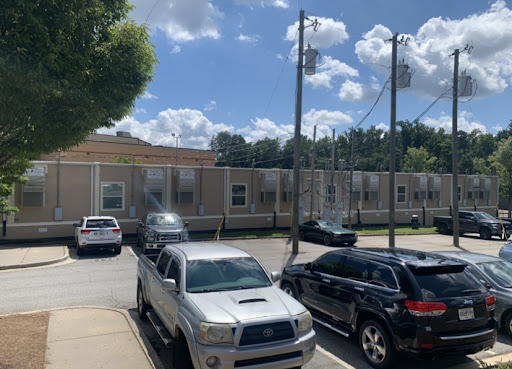 Each school year brings new and exciting changes. At Lambert High School, the 2022-23 school year is no different. Returning students have noticed the trailers in a new location, lengthened class change period, stricter tardy rules and the new advertisement period. 
The most obvious and startling change seems to be the location of the 3000 trailers. In years past, the trailers were located outside the 1600 hallway, but this year they are located in the gym parking lot. Many students have expressed concerns about the recent change. 
"I find it inconvenient," junior Chitvan Sign explains, "I hate having to walk outside. There was one day…[when] it was raining slightly. It's annoying to have to go out and kinda get drenched before going to your class." 
Unlike their previous location, there is no covering to protect students from inclement weather when walking to class. 
As the wet season rolls around, heavier rain, thunderstorms and possibly snow could become a safety hazard for students commuting to the trailers. 
While the new location of the trailers might be bothersome, the relocation is for a valid reason. Lambert High School will be gaining an exciting new addition to campus. There will be an extension to the 1600 hallway that will hold a dining room, sports medicine facility and a lab for iGEM.
According to building regulations, all stand alone trailers must be 30 feet away from main buildings. Unsure of how much space the new addition would take up, administration opted to move the trailers to the gym parking lot in coordination with building regulations. 
The trailers require a flat surface as a foundation in addition to accessible electricity. In previous years, Lambert hosted trailers in the guest parking lot by the front entrance of the school and in the back gym parking lot  behind the 1600 hallway; all three locations were level and able to accommodate electricity requirements. When picking a new location for the trailers, Principal Dr. Gary Davison knew it would be an easy choice.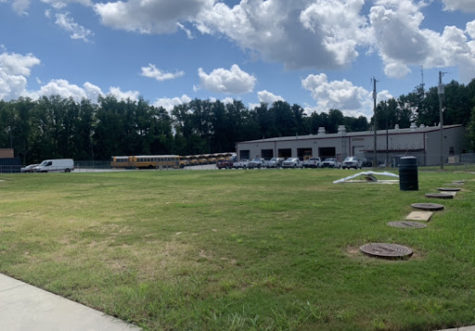 "When the trailers left [the gym parking lot location] about 6 years ago or so, they maintained the electrical so we were just able to just run the electricity right from there," Dr. Davison explained. "It reduced the cost a little bit by having [the trailers] in [the gym parking lot] and it kept them somewhat in an area close to the main building." 
The trailers are expected to remain in the gym parking lot until the additional classrooms are added to the 1600 hallway. Once construction finishes, Lambert administration will evaluate where the most appropriate spot for the mobile classrooms will be. 
The new addition to the school is one that will benefit many clubs and programs. It will add a new iGem lab, Culinary dining room and sports medicine facility. 
iGem, a club dedicated to the advancements of synthetic biology, is currently sponsored by Mrs. Standeven in her science classroom located in the 2200 hallway. 
"The reality is, when you run biotechnology, you have certain needs of equipment and space," Mrs. Standeven relayed. "We're just out of space." 
The new facility has been highly anticipated by Standeven, who has been lobbying for the extension for over 5 years. 
 Biotech is a Career Technical Agricultural Education pathway, which often requires a large lab classroom to fit the specific requirements of each individual CTAE class. Standeven is currently occupying a closet and a normal science class room, a highly sought after space due to Lambert's rapidly increasing interest in science courses. Her students make daily ventures to the closet to use equipment stored there. Not only is this inconvenient, but it can create a dangerous environment. Students are cramped in a small space without adult supervision, the perfect recipe for trouble.
The new facility will not only allocate Standeven and create a safer lab environment, but it will also alleviate a science lab for another teacher in need like science teachers Mrs. Potter and Mr. Scutt, who both currently occupy a standard classroom instead of a needed science lab. 
Lambert's staple Culinary program is also gaining an exciting addition: a dining room. Lambert is one of the last high schools in the county to add a dining room. Older schools like South Forsyth High School added a culinary dining room to their building, while newer schools like East Forsyth and Denmark are including the essential part of this CTAE class in their original design. 
"We're very excited, this is an expansion we've needed for a while now." culinary teacher Mrs. King said. In order to teach all culinary standards and be national certified, a dining room is required. With this addition, students will be able to learn all required standards."
The culinary program at Lambert is highly sought after by students. The class is on a first come first serve basis, and many students aren't admitted each year. This new addition will open more class space and allow more students to participate in the culinary program.
In addition to allowing Lambert students to learn new skills, King hopes to open the room to students and staff members. 
"This will allow us to serve Giddy Up Grill Meals and open the dining room up for more banquets and just a lot of different things," King explained. "My hope is to also use [the dining room] as a coffee shop." 
 Construction on this project will begin sometime this October. Get excited, Longhorns, because exciting changes are heading our way.
Donate to The Lambert Post
Your donation will help support The Lambert Post, Lambert High Schools student-run newspaper! Your contribution will allow us to purchase equipment and cover website hosting costs.