Football: Lambert suffocates West Forsyth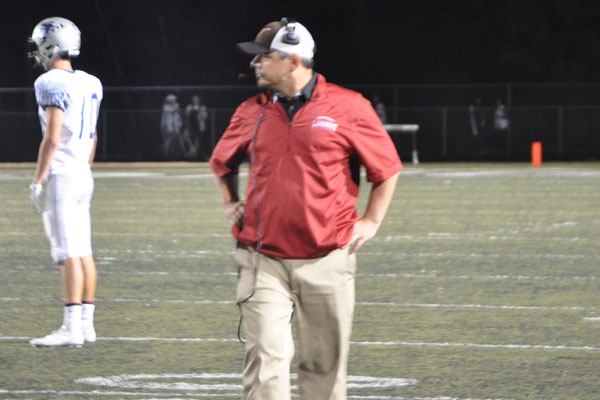 On a brisk October Friday night, two defenses buckled down in a classic rivalry matchup with major region implications. After a rough defensive struggle, the Lambert Longhorns (5-3, 3-0) were able to break free of the 8th ranked West Forsyth Wolverines (6-2, 2-1)  by a score of 17-7, and in the process, take sole control of Region 5-AAAAAAA.
Based on the first drive of the game alone, one would have expected the game to be a shootout, much like the Longhorn's game last week against North Forsyth. The Wolverines were able to quickly march down the field and score a touchdown on the opening drive of the game when quarterback Kiernen Hamilton connected with Zach Burns. However, following that quick scoring burst, the two defenses hunkered down, as both offenses were held to under 200 total yards. Included in that defensive hunkering was a Jaryd Jean-Felix punt block in the first quarter.
The next score of the game would not occur until there were three minutes left in the third game, when tailback Brian Wright was able to pound a run into the end zone. The two offenses continued to trade punts until Lambert scored again via the ever-prominent Kenney-Gillis aerial connection. The next drive for West Forsyth was an important one, as the Wolverines had lost the lead, the momentum, and the intensity of the crowd. In their attempt to regain all of those aspects, however, West turned the ball over. The Longhorns were able to capitalize off of that blunder by way of a huge 45-yard field goal from Bryce Christensen. For the first time in the game, the Longhorns lead by two possessions.
West gave one last ditch effort, but Hamilton was sacked thrice in a row by Longhorns defenders, who in total sacked the senior signal-caller nine times. Following the sacks and turnover on downs, the Longhorns were able to take a knee and end the game, emotions running high after knocking off a top-10 rival and region powerhouse.
The victory for Lambert was not only their fourth straight on the year, but also their fourth straight over rival West Forsyth. Unlike the South Forsyth rivalry however, where before this season there were numerous blowouts in the series, each of the last three games in the "WolverHorn" series, as it has been dubbed, have been decided by 10 points or less.
This Friday, Lambert will play its third straight road game when it travels to Fulton County to take on the Milton. If the Longhorns are able to defeat the Eagles, they will have clinched their first football region title in school history, which, along with winning a playoff game, has been a major goal for the team all season.