Football preview: Lambert vs South Forsyth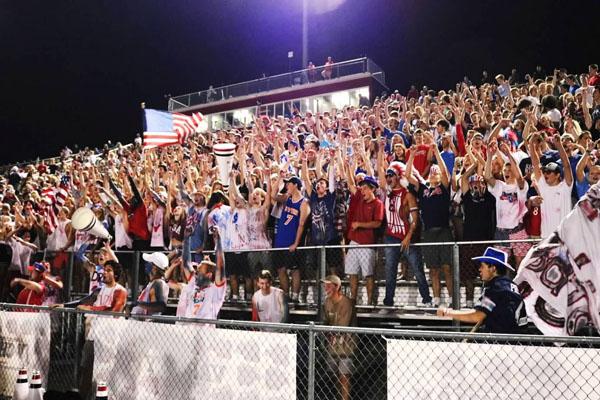 Friday night at 7:30 in "the Horn", the Lambert Longhorns will go head-to-head with their arch-rivals, the South Forsyth War Eagles. The War Eagles enter the game with a 3-2 record, and the Longhorns hold a record of 2-3. This is the first region game of the season for both teams, and both teams are coming off of a bye week due to Fall Break. Before the break, South Forsyth lost 35-21 to the Lassiter Trojans, which caused the War Eagles to drop out of the top 10 of the Georgia Sports Writers Association High School Football Poll. On the other hand, the Longhorns were able to grab a much-needed win over the Wheeler Wildcats, which ended Lambert's two game losing streak.
Lambert fans will hope for history to repeat itself; the past two meetings in this rivalry have seen blowouts in favor of the home teams, with South Forsyth routing the Longhorns 31-6 last season, which was revenge for when Lambert smacked the War Eagles 40-7 in 2014.
Last season's match up took place in the final week of the regular season, so the game served as a de facto region championship. Due to the game being moved to the middle of the season this year, it does not carry that same significance, however this game is still important to both teams. As the first region game of the year for both teams, this is also the first game of their seasons that directly affects their playoff chances. Since Region 5-AAAAAAA only has six teams as compared to the 10-team region that both South Forsyth and Lambert played in last season, they have a greater chance at making the playoffs than they did in the old format. However, the consequence of having a smaller region is that there are less region games to be played, so each game carries much more weight than they did last year. In order for a team to clinch a home playoff berth, that team would likely have to limit their losses to one or two, so the loser of this game will already be behind the eight ball for the rest of the year.
South Forsyth and Lambert have played each year since Lambert began playing Lambert football in 2010, and since then, the road team has only won once when Lambert defeated South at War Eagle Stadium in 2012 to the tune of a 48-7 blowout, setting a record that still stands for points scored in this rivalry.
Home field advantage plays a great role in this rivalry, and the student sections usually have their highest and rowdiest turnouts of the season for this game. South Forsyth had the advantage of playing at home for most of its key games last season (Lambert and the playoffs), and has struggled in key games away from Peachtree Parkway, losing at West last season, against Hillgrove at McEachern in this season's opener, and at Lassiter two weeks ago. If the home crowd is able to get to South Forsyth on Friday night like the other home crowds have gotten to the War Eagles, the Longhorns would have a great advantage on their side.
The War Eagles' main advantage over the Longhorns in this game is its experience against strong opponents. South played three of the best teams in the state, and won against two of them, in the playoffs last season when they faced-off against Norcross, Tucker, and Colquitt County. This season South went out of its way to put top teams on its schedule with high-profile games against Hillgrove, South Gwinnett, and Lassiter, and that experience against top teams should have the War Eagles well-prepared for their match-up against the Longhorns.
Lambert's key to success in this game is to keep the intensity up for all 48 minutes of the ball game. Lambert has held a first half lead in two of the three games it has lost this year, and it let up a lead with one minute left against Cherokee. The Longhorns will have to play with the same strength and efficiency for all four quarters against South as they have played with in the first half of their first five games, as South will be their toughest opponent yet.
For South Forsyth, their key to victory will be winning the battle at the line of scrimmage. Lambert's strength is its running game, so South will have to clog up holes and penetrate the line in order to force Lambert to pass the ball. If they can do that, their next big key will be to neutralize Tyler Gillis, who is 2nd in the county in receiving yards and is a threat to make a big play at any given moment.
It is sure to be an emotional game on Friday night, and tempers will flare between young men who have been playing against, and sometimes with, each other since they played peewee ball at Sharon Springs. Just like any true rivalry though, making a prediction would be fruitless, as anything can happen when two teams that hate each other's guts lay it all out on the field. What one can expect, however, is that the fans will be rowdy in both sets of bleachers, and the players will all give their full efforts in the name of their school.
Leave a Comment
Donate to The Lambert Post
Your donation will help support The Lambert Post, Lambert High Schools student-run newspaper! Your contribution will allow us to purchase equipment and cover website hosting costs.