Georgia Tech student killed in police shooting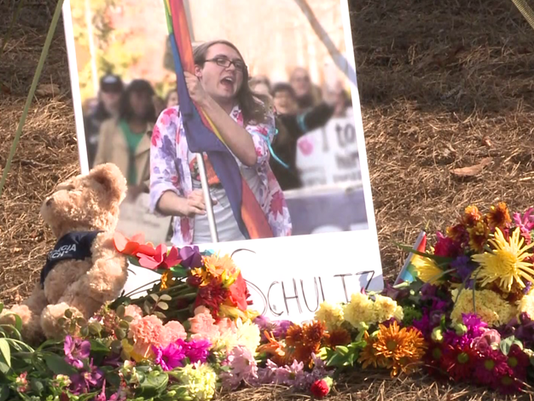 The President of Pride Alliance – a Georgia Tech LGBT organization – was fatally shot in the heart with a single bullet by a campus police officer on Saturday night, September 16, after reportedly refusing the police's order to drop a knife.
Scout Schultz, 21, was pronounced dead early Sunday morning after being taken to a local hospital.
Georgia Tech police were called to the West Campus residential area after a person called 911 at 11:17 p.m. and described a suspicious person who was near the campus "as a white male, with long blond hair, white T-shirt & blue jeans who is possibly intoxicated, holding a knife and possibly armed with a gun on his hip," according to a statement from the Georgia Bureau of Investigation.
A police investigator claims that the person who made the 911 call was actually Schultz.
Investigators said Schultz was barefoot and armed with a knife once police arrived at the scene. Schultz refused to drop the weapon after police continued to urge him. Video footage taken by witnesses revealed that Schultz did appear to have an object in their hands.
According to the cellphone video footage, Schultz is seen barefoot screaming, "Shoot me!" Police are seen responding to Schultz with, "Nobody wants to hurt you" and "Drop the knife!" Georgia Bureau of Investigation spokeswoman Nelly Miles claimed the the officer fired his weapon at Schultz  after they "continued to advance on the officers with the knife."
Schultz preferred the pronouns "they" and "them" rather than "him" or "her" and identified as bisexual and non-binary–according to a Pride Alliance profile online, reports USA Today. The parents of Schultz revealed that their child had suffered from anxiety and depression, attempting suicide in the past.
Police investigators recovered three suicide notes found in Schultz's dorm, along with multipurpose tool containing the knife that was taken from the scene.
According to L. Chris Stewart, the Schultz family attorney, Schultz was "battling mental health issues that pushed them to the edge of desperation." Stewart added, "their life was taken with a bullet rather than saved with non-lethal force."
On Monday night about 50 people marched to the campus police department following a memorial vigil hosted a Georgia Tech University.
Three people were arrested after protesters set one police vehicle on fire and injured two officers.
Protest at GA Tech. Justice for #ScoutSchultz NOW pic.twitter.com/3h5ubyWPBn

— alex (@violinwitch) September 19, 2017
The video above reveals the violent protests that took place in downtown Atlanta on Monday night.