Summer fun in the sun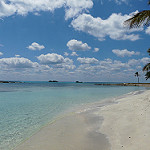 It is officially the last week of school and Lambert Longhorns are more than excited to take off from school. It is truly the moment that we all have been waiting for. Just like in High School Musical 2, as we all scream for summer, counting down the last few seconds before 12:55, we throw ourselves in the air with overflowing excitement. However, do you know how you will be spending your summer this year?Here are some of my own do's and dont's to have a fantastic, but safe summer.
DO spend lots of time with friends and families. Don't be neglecting your pets either.
DO go out in the nature, away from advanced technologies that keeps interrupting our society.
DO wear sunscreens and sunglasses to protect yourselves. You know better as a high schooler to watch out from the extreme exposure of heat.
Now, stay along for my NO NOs.
DO NOT risk anything for some fun that would only last for a bit. (You all know exactly what I'm talking about).
DO NOT stress yourself out even during the break. Have some fun!
And lastly…..
DO NOT forget about our website! We had an amazing year with everyone on the staff and we have grown so much. If you haven't noticed, we have continuously gotten recognized for our hard work and achievements. We are thrilled to have a new group of staff aboard next school year and of course, we will never forget about our seniors, class of 2016.
Congratulations to Jordan, Jessica W., Jessica B., Madeline, Olivia, Sungmin, Riley, Kathryn and Logan!